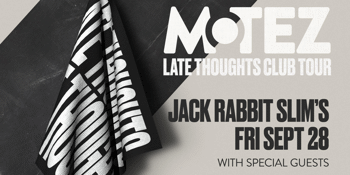 No Signal & Jack Rabbit Slim's present
Motez 'Late Thoughts' Club Tour
with special guests
Jack Rabbit Slim's (Northbridge, WA)
Friday, 28 September 2018 10:00 PM
You're in a club. It's past midnight, the lights are low, ceiling feels like it's about to collapse and the walls dripping with sweat. A setting you've become far too familiar with, as Motez soundtracks your journey into the early hours, selecting wall-to-wall heaters.

We think it's time to revisit these moments.

Following on from his ARIA Gold record, 'The Future', and a sold out national tour including some of Australia's most iconic live music venues, it feels only right for Motez to reflect on the past and return to where it all began... where we all fell in love with his unique approach to house music and where he cut his teeth and crafted his sound. Let's go back to the club.

No Signal Presents, Motez at Jack Rabbit Slim's on Friday September 28, in support of his 'Late Thoughts' EP & Club Tour, reuniting with fans across Australian and New Zealand for a run of intimate and extended sets, going late, dark and deep.

Arrive early and place your trust in the support of Perth's finest selectors, to guide you through with the opening sounds.

Doors at 10PM. 7 hours of power, start to finish. Bring a sweat towel.

Perth, this is one night out not to be missed.