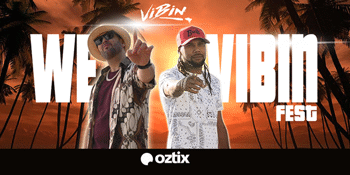 Vibin Events
We Vibin Fest Midland 2021
Lil Mase, Justin Wellington, Sick Wit It Crew Dj Twitch, Big Noyz, Dj Chill Ease, P-Naka, Izzar & more TBA
The Grand Central Hotel (Midland, WA)
Friday, 15 October 2021 8:00 pm
We are excited to bring the first "We Vibin Fest Midland 2021" to Grand Central Hotel, Midland Oct 15, 8:00 pm.

Headlined by International RnB/Reggae/Island sensation Justin Wellington, renowned for his super-viral hit single "Iko Iko" (Spotify +35M) and viral dance trend #ikoikochallenge (Tik-Tok viral +80M) performing all his hits, classics and favourites including "Island Moon", "Much Love" & "Runaway".

We will also be bringing to Midland 1 of Australia's most promising and talented Hip-Hop/RnB artists Lil Mase. He will be performing all his Bangers such as "What It gone be", Shine like the sunshine" and "Sweeter than wine" to name a few.

The lineup will include the head of Sick wit it crew/Dj Twitch & Dj Chill Ease on the decks, local talents P-Naka, Izzar & from Brisbane Big Noyz + more TBA for a special and memorable mini-festival.

There are 3 stages of ticket releases available. Get in early to save and guarantee your ticket.
There are also limited V.I.P meet & greet tickets (Lil Mase Only) available which include a free t-shirt and entry.
Get in early to avoid missing out.