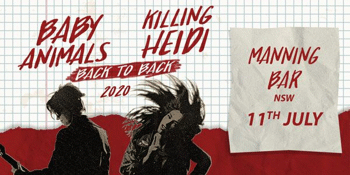 The Harbour Agency present
CANCELLED - Baby Animals + Killing Heidi "Back To Back"
Manning Bar (University of Sydney, NSW)
Saturday, 11 July 2020 8:00 pm
Baby Animals and Killing Heidi hit the road again for the 'Back 2 Back Tour 2020'.
After the success of 2019's short 'Hits' tour both bands have been inundated with requests for a continuation of what was one of the biggest Rock events of 2019.

From 'Early Warning' to 'Weir'. 'Rush You' to 'Mascara'; fans will be treated to all the favourites, and then some!