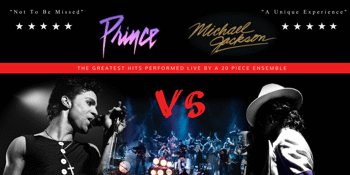 Lombardo Entertainment present
Michael Jackson Vs Prince
Max Watt's Sydney (Moore Park, NSW)
Saturday, 22 February 2020 8:00 pm
For the for the very first time, the greatest hits collection of the King and Prince of Pop will go head to head LIVE. Performed by a 20 piece orchestra, which has brought together the most dedicated Prince and Michael Jackson vocalists and musicians to recreate the greatest pop music of all time. An open dance floor and breathtaking light show will allow you to immerse yourself in a unique experience whilst you dance to your favourite hits performed by live by an entire orchestra.
A show that will be presented by Lombardo Entertainment, who have already produced the most popular Prince and Michael Jackson tributes the country has seen to date, this will be a night of music impossible to miss.
The orchestral tribute will be directed and conducted by Phil Lombardo, who has already directed some of the countries biggest selling shows this decade which include; PRINCE: 1958-Forever, The Bruno Mars Experience, Dr Dre 2001 Orchestral Rendition, The Music of Thriller LIVE, Daft Punk: An Orchestral Rendition, PONY: 90s R&B Party and many more.
This event will be in Sydney for one night only.