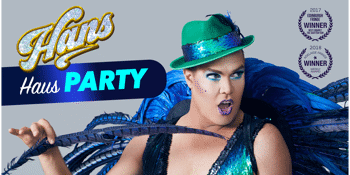 Palais-Hepburn presents
HAUS PARTY
Palais - Hepburn (Hepburn Springs, VIC)
Saturday, 4 May 2019 7:30 pm
Hans returns like a phoenix from the flames! The beautiful HANS returns having had his last show cut short from the imminent bushfire threat in Hepburn Springs, so we have decided to raise money for our local CFA to say thank you for all their constant efforts in containing the fires and thus saving many local homes and business such as the historical Palais - Hepburn. Every ticket sold will help towards their efforts.
A raffle will run between now and the show, prizes will be drawn by the fabulous Hans himself.
A big thank you to local business's for their support being so generous in donating the amazing prizes to be drawn. Its going to be one HOT night.