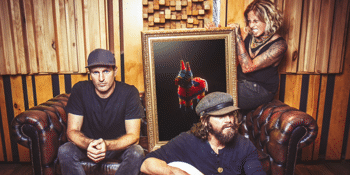 Tijuana Cartel - Acid Pony Tour Pt 2 at the Indian Ocean Hotel
Indian Ocean Hotel (Scarborough, WA)
Sunday, 19 September 2021 8:00 pm
Their psychedelic, atmospheric dance music combines the sounds of the Middle East, India and Spain, and has made them one of the most popular and exciting live acts in Australia today.
After spending the last decade mixing in influences that haven't been fused before, their penchant is for Middle Eastern musical scales, beats that get a floor moving and a general psychedelic approach in song structure and ethos. Not married to one genre or another, they happily change direction in search of new flavours and inspiration, whenever the moment takes them there.
Making the most of their unexpected free time in 2020, Tijuana Cartel set about writing and recording music for their upcoming album Acid Pony, due for release mid 2021.
The band had two studios set up - one on the Sunshine Coast hinterland and one on the Gold Coast. Writers Carey and Paul worked on songs separately and emailed the tracks back and forth. The two singles released so far, Minimal Stuffing and Sufi, both also have accompanying computer generated graphic clips created by the band. The clip to Minimal Stuffing was created from flowers and plants scanned in using a 3D scanner made out of a hacked record player.
Both singles have seen success in online, radio and streaming platforms through 2020.
"Globally eclectic, the intertwining of instrumentation and music styles brings together the feeling of interconnectedness between all humanity and illustrates a global harmonisation so well." Nkechi Anele, Triple J