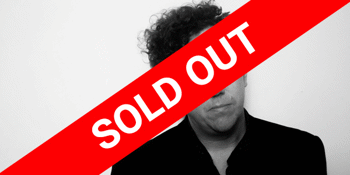 The Junk Bar presents
Ben Salter
'The Return'
The Junk Bar's Skukum Lounge (Ashgrove, QLD)
Saturday, 9 February 2019 7:30 pm
Finally back from his never-ending tour of Europe, Ben Salter is home for a handful of shows on the Australian east coast early in 2019. Following an epic six month tour of more than 100 shows across 14 countries, Ben is at the top of his game - his distinctive voice and intimate solo show have never felt more comfortable and assured.

Based in Tasmania, Ben Salter has toured Australia and the world for nearly 20 years, both solo and as a member of The Wilson Pickers, The Gin Club, Giants of Science and Hownowmer. His most recent adventures across Europe and Japan saw him perform in the 15th century home of a Spanish Inquisitor, in a French sheep shed, for a celebrity chef in Portugal, in a church in the west of Iceland, and at the infamous Binic Folks Blues Festival, with a short detour via Parc Asterix, ending the year with a self-released yuletide EP.

Regularly cited as having one of the best voices in the country, Ben's performances highlight his storytelling, humour and sincerity, while his recordings experiment with a diversity of styles from acoustic ballads to indie rock, avant garde soundscapes to instrumentals. His idiosyncratic and literary style is in the tradition of songwriters John Cale, Robert Wyatt and David Byrne, and he draws inspiration from the likes of The Velvet Underground, Roy Orbison, The Ink Spots and Low.