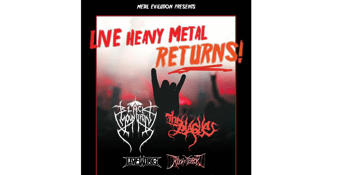 SOLD OUT! Black Mountain - The Plague and MORE
Livewire and Reign of Terror
The Basement - Canberra (Belconnen, ACT)
Saturday, 4 July 2020 7:00 PM
It's been a tough ride the last few months Maniacs and the live music well has gone and truly dried up worldwide. It's been a very trying time for everyone. Things are on the way back up though as restrictions are eased and day by day we reclaim more of what we used to have. The Basement in Canberra from July 1st enters a new level of restrictions and we are finally able to have some Metal bands playing and the true feel of a live gig returning. Saturday July 4th live Metal returns!The venue will have limited numbers allowed to attend but we can still allow 100 bodies in the room. Social distancing will still be asked of you all but it's your first real chance again to enjoy a live show.
Celebrating this are 4 most excellent bands from both Canberra and Sydney in BLACK MOUNTAIN, THE PLAGUE, LIVEWIRE and REIGN OF TERROR. That's a great mix of Black, Death, Speed and Thrash Metal.
Presale tix will be available from MondayJune 22nd and recomended you grab them if you are travelling to the show to avoid possibly missing out.
Presales are $12 or $15 at the door.
Let's hope this is the start of many more shows all around the country starting to unfold. It's been way too long. \m/
https://www.facebook.com/blackmountainblackmetal/
https://www.facebook.com/ThePlagueSydney/
https://www.facebook.com/livewiresydney/
https://www.facebook.com/reignofterrorbeermetal/