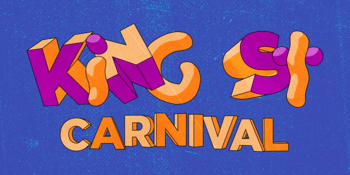 The Music and Booze Company presents
King Street Carnival
Sydney Park Precinct + Camperdown Memorial Rest Park (Newtown, NSW)
Fri 14 - Sun 16 January 2022 5:00 pm
King Street Carnival is here!
Friday 14th - Sunday 16th January 2022

Hiatus Kaiyote, Middle Kids, Amyl and The Sniffers, Mildlife, Kaiit, Ratcat & more join…
You Am I, Confidence Man, Horrorshow, Yothu Yindi, Sarah Blasko, Stella Donnelly & many many more + outdoor open air parties from Heaps Gay & Inner West Reggae Disco Machine..
60+ acts across outdoor stages in Sydney Park Amphitheatre, Sydney Park Brick Pits, and Camperdown Memorial Rest Park
Full lineup & more info at: www.kingstreetcarnival.com.au
Extended music programming in the myriad of bars, pubs, venues, cafes, shops that line King St and surrounds to be announced soon!!!
--------------------------------------------------------------------------------------------------------------
The King Street Carnival (KSC) is the natural evolution of The Crawl and will see it grow from the one day 'Crawl' format to a 3 day underground music and arts city festival. The Carnival will expand into the parks that surround Newtown, taking over parts of Sydney Park and Camperdown Memorial Rest park to create outdoor concert style stages showcasing some of Australia's most well-loved and up-and-coming artists. Further to this the event will bring into play the multitude of venues, small bars and pubs dotted along King street and surrounds and shine a spotlight on the area's incredible food and beverage scene. Building on the success of King Street Crawl and highlighting the rich and multicultural tapestry that the Inner West has to offer, King Street Carnival opens up opportunities for the local creative communities and emerging artists to be discovered by festival goers and music lovers alike.
*ALL TICKETED SITES ARE SUBJECT TO CAPACITY AND FILLED ON A FIRST BEST DRESSED BASIS