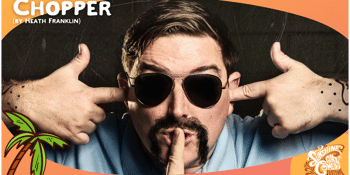 Sunshine Coast Comedy Festival Presents
Best Medicine feat: 'Chopper' (by Heath Franklin) - Sunshine Coast Comedy Festival
Rory Lowe
Your Mates Brewing Co. (Warana, QLD)
Saturday, 12 November 2022 1:00 pm
We're back, baby! Covid safe and harder than ever, Aussie comedy legend - Chopper - finally brings his smash hit show to town.

A special addition to the Sunny Coast Comedy Fest this year comes to the new and awesome, Brouhaha Brewery - Aura.
If you haven't already, check the new spot out while you grab a Knock Off with Chops.
Anti-vaxxers, lockdowns, Karens, cancel culture, Mr Potatohead – the outrage is deafening. Everyone is crazy, everyone has an opinion, everyone is wrong.
In amongst all this noise and hysteria and angst, and snowflakes and trolls, who will give us a bit of bloody shush? Chopper is here to machete our way through the jungle of bulls**t.
''Any fear or even faint suspicion that Heath Franklin's Chopper persona was running out of steam evaporate within the first few seconds of his smashing new stand-up show' - The Herald Sun
"This is a top hour of uproariously entertaining comedy… packed with good gags and 'so wrong its right' moments" **** Chortle UK