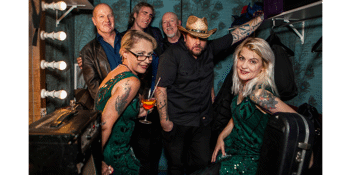 The Fyrefly
POSTPONED - Dalicados - Kind Of Hard Single Launch Party
The Last Hotel
The Fyrefly (St Kilda, VIC)
Friday, 17 April 2020 7:30 pm
POSTPONED - NEW DATE TBA

To quote Bruce Springsteen,
"The best music… is essentially there to provide you something to face the world with", a philosophy which saw the birth of Melbourne-based soulful rock band Dalicados, who will launch their second single at St Kilda's Fyrefly on Friday, 17th April, 2020.
In 2017, six friends with a distinctive Australian music pedigree (The Chosen Few, Hunters & Collectors, I Spit On Your Gravy, Drivers Eyes, H.A.N.D, In Vivo, Fiona & Her Holy Men, Epic Brass, UNAustralians, Tijuana Souvenirs) banded together to provide music therapy and support to each other during a close friend's terminal illness.
Stellar live performances soon saw Dalicados earn a loyal following, captivating audiences with their electrifyingly soulful storytelling through rock music and recording of Dalicados debut album began in 2018. Taking over 12 months to complete – with Dugald Jayes engineering, plus Mark Carson & Fiona Lee Maynard collaborating with Dugald to share the Producer role and enlisting the Mastering services of 2020 Grammy Nominee; Joe Carra from Crystal Mastering, Dalicados are poised to deliver their second single; "Kind Of Hard".
Remarkable songsmith James Lomas is lead vocalist and guitarist; Dalicados' rhythm section of Cal Mc Alpine on drums and Mark Carson on double bass, comprise the engine room; custom finished details are provided by backing vocalists and percussionists, Tracey Mc Alpine and Fiona Lee Maynard, with the incomparable Jack Howard on trumpet and assorted brass instruments.
Their songs are seasoned with Australian and popular culture lyrical references, a comedic twist and enormous empathy.
Drawing on a compendium of influences from popular music and entertainment culture since the 1960's, encompassing traditional and classical elements, but leaning towards Steve Earle and Tom Waits with a firm nod to soul revue bands - Dalicados offer passion and professionalism and have never forgotten the original creative purpose that prompted them to pick up their instrument and carry it with them their entire life.
Dalicados unveiled their debut single and accompanying music video to the track, titled "Make Hay While The Sun Shines" in June 2019 – which lead to a Sydney & Melbourne tour with Painters & Dockers as well as regional Victoria dates and are now ready to launch the second single; "Kind Of Hard" from forthcoming album "NEVERMORE".
"Kind Of Hard"
(these days)
features the mournful and evocative brass of Jack Howard who returns from headlining the Red Hot Summer Tour 2020 with Hunters & Collectors. The launch will be a celebration of friends coming home. Dalicados will perform songs from their forthcoming album, provide a free download code for "Kind Of Hard" upon entry and will be joined by special guests, Country-Jazz-Folk-Rocksters; THE LAST HOTEL.
Music streaming on
https://dalicados.bandcamp.com/
Facebook page
https://www.facebook.com/dalicados/
Doors: 7:30pm
Showtime: 8:30
Support: THE LAST HOTEL 8:30 pm
Headliner: DALICADOS 9:40 - 10:50
Venue close: 1pm
Reserved Seating $25 + bf
General Admission $ 20 + bf
Dinners show available +$40 for 2 courses
Any unsold tickets will be available at the door on the night for an extra $5
Doors open/ Dinner: 7:30 PM
The show starts: 8:30 PM

THE FYREFLY
The Fyrefly is St Kilda's superb new dining, music and entertainment room located just down the stairs at Newmarket Hotel. Creature comforts meet sophisticated glamour, with outstanding facilities for the artists to play a huge variety of music styles including jazz, soul, funk, RnB, and even comedy.
OUR DINING EXPERIENCE
Aside from entertainment, an evening at The Fyrefly entails fine dining, top-shelf hooch and classy cocktails. We offer two or three-course dinner & show packages, or you can take your pick from our A La Carte Menu. Our menu showcases only the best locally sourced ingredients guaranteed to delight your taste buds.
CONNECT WITH US
Follow us on Facebook.
Learn more about The Fyrefly on our website.