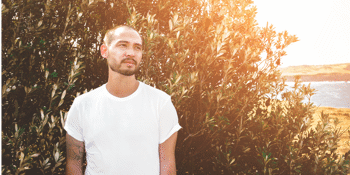 Lemon Tree Music & Lonely Lands Agency
Garrett Kato at The Grace Emily
The Grace Emily Hotel (Adelaide, SA)
Friday, 16 October 2020 8:00 pm
THIS EVENT ON FRI 29/05/2020 HAS BEEN RESCHEDULED TO FRI 16/10/2020.

The Canadian-born, Australia-based singer-songwriter & producer Garrett Kato creates out of his Byron Bay home and utilizes his personal studio as an ever-evolving canvas.
Since settling in Australia during 2010, the singer-songwriter quietly went from busking and living out of a backpack to tallying 33 million worldwide streams and performing sold-out shows alongside Damien Rice and Ziggy Alberts. He landed syncs in Hollywood blockbusters like Bad Moms as "Take It Slowly" surpassed 11.8 million Spotify streams. His 2019 EP, Distant Land, earned the endorsement of Triple J and Beatroute Magazine as the title track eclipsed 2 million Spotify streams. At the same time, he cemented himself as an in-demand producer, working with the aforementioned Ziggy Alberts on his 2016 EP Four Feet in the Forest (certified Platinum in Aus) and his 2018 album Laps Around the Sun (certified Gold in Aus), as well as releases from Kyle Lionheart, Pete Murray, Pierce Brothers, and more. As he took stock of his journey during 2019, he set about on the next chapter. Putting together new music, he reflected on where he had been. This process and the space ultimately gave birth to his 2020 EP release, s. hemisphere – out March 6, 2020.

"I most definitely look at these songs as paintings," he affirms. "It's totally a mad scientist situation. I blend sounds together in order to aesthetically serve the song. The writing, engineering, and producing are all married. I'll tinker with a track for two months. I look at it, walk away, and come back as if I were leaving a painting on a canvas. The chords, melodies, and moods are like images to me. I don't use instruments for genre, but rather for frequencies, tones, and cadences. Getting the chance to see different parts of the world and hear so many stories inspired some of the insights and colours I wanted to use."