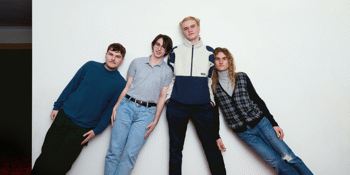 Raida Artists, Chugg Music
Teenage Dads 'Cheerleader' Tour
107 Projects (Redfern, NSW)
Friday, 12 November 2021 6:00 PM
Hailing from Melbourne's Mornington Peninsula, Teenage Dads has been winning over fans with their memorable songwriting, quirky charisma and out-of-this-world live show. Today, the four- piece share their latest burst of retro-pop Cheerleader, alongside a head- spinning DIY visualiser via Chugg Music. Following the release, the band will perform headline shows in Adelaide, Melbourne, Newcastle, Sunshine Coast, Brisbane and Gold Coast this September and November. Additional rescheduled shows will be announced shortly.
Cheerleader radiates with glitzy hooks, irresistible melodies and meticulous craftsmanship. "Cheerleader is about indecisiveness leading to missed opportunities and regret. I wrote this last year feeling like I had spent much of my time not working hard enough to put myself out there and constantly feeling as though nothing was getting done. I was in a rut, felt like my life was moving on without me and all that remained were precious memories to keep me motivated for whatever came next," says frontman Jordan of the track.
Filmed at Fort Nepean - an 18th century fort in Portsea on the Mornington Peninsula, the Cheerleader visualiser captures the band frolicking in a circle of life. "We were strapped for ideas, so we headed to a random location to see what we came up with. This is what emerged from thin air. There was a great debate on running clockwise or anticlockwise but the right decision was made in the end," muses guitarist Connor of the clip.
Cheerleader follows on from Thank You For The Honey, Honey, which was added to triple j Unearthed and catapulted the band to sold-out shows and performances as special guests for Lime Cordiale.
Teenage Dads are:
Jordy Finlay - Vocals/Synth/Guitar
Vincent Kinna - Drums
Angus Christie - Bass
Connor McLaughlin - Guitar