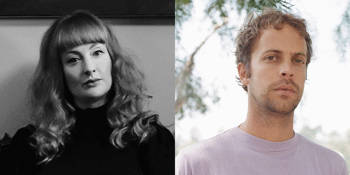 Fremantle Arts Centre
GUM (DUO) + RACHAEL DEASE & TRISTEN PARR
Fremantle Arts Centre - Main Gallery (Fremantle, WA)
Thursday, 27 August 2020 6:30 pm
Fremantle Arts Centre's intimate winter music program Gallery Sessions returns each Thursday night in August. Each show features a double bill of Perth's most talented songwriters performing stripped-back sets up-close in FAC's Main Gallery and Pavlich Room. With a small, cosy crowd and the beautiful backdrop of artworks from Panacea, FAC's latest exhibition, Gallery Sessions is a unique and unforgettable return to live music.
An eternal student of sound and song, Jay Watson's study reaches new levels of distinction on Out In The World, his fifth
GUM
solo album in almost as many years. After landing on the title which evoked an imaginary mood board of 80s English jangle pop and wintry blue skies, Out In The World emerged following a year of experimenting, writing and recording at home in Fremantle. Stealing studio time between his commitments with Pond and Tame Impala, Watson's ever omnivorous taste for styles, sounds and eras coupled with his ongoing quest to make sense of this madness we call life has gifted his most potent, vibrant GUM album to date.
Rachael Dease's
artistic practice encompasses art music, film and theatre scoring, installation and songwriting. She won the inaugural Martin Sims Award at Fringe World, the Melbourne Fringe Music Award and received critical acclaim at New York Fringe Festival for her contemporary song cycle City of Shadows. Her composition and sound design for theatre include the Helpmann Award-nominated It's Dark Outside (The Last Great Hunt), Sunset (Strut Dance/Maxine Doyle) and Rest (WAYTCO). Here she performs with longtime collaborator, and Schvendes bandmate, Tristen Parr.
Gallery Sessions begins with a guided tour of Panacea before audiences take their seats for the cabaret style show of songs and stories. Enjoy a heartfelt set from one artist before moving to the other performance space and doing it all again for the second half of the show.
Please note that the audience will be split into two groups so purchase tickets together in Audience Group 1 or 2 to ensure you're seated with your friends or family.
Accessibility
FAC is a heritage listed building with access limitations. One of the Gallery Sessions sets takes place in a part of the building accessible by stairs only. If you have any special requirements regarding accessibility, please phone FAC Events Coordinator David Craddock on 9432 9568 or email artscentre@fremantle.wa.gov.au as soon as possible so that we can facilitate alternative arrangements. ​​​​​​​
Door open: 6:30pm
Gallery Tour: 7:00 - 7:20pm
Both gigs start: 7:30pm
Venue Entry Terms & Conditions
i. Gate opening times vary, please check your ticket for details. All concerts finish by 10pm.
ii. Permitted items vary from event to event depending on style and layout. Please check fac.org.au for event specific terms and conditions to avoid confusion.
iii. No chairs, umbrellas, picnic baskets, bean bags, eskis, large blankets, helmets, selfie sticks, GoPro, SLR (detachable lens) or professional cameras, iPads, professional recording equipment, large items or dangerous items are permitted in to the venue.
iv. You can bring a fold out cushion (one that folds out to create a cushion with a reclining backrest that sits on the ground), a small blanket, a small soft bag for personal belongings or food, sealed water or soft drink and empty water bottles to fill v. inside the venue.
vi. Any item deemed to be dangerous, hazardous, intimidating or offensive to patrons will not be allowed into the event. This will include but is not limited to items such as glass, steel cap boots,
umbrellas.
vii. The seller reserves the right to conduct body and bag searches of all ticket holders.
viii. All Fremantle Arts Centre ticketed concerts are 18+ unless otherwise advertised. This is to reflect that the concert area is licensed, that alcohol will be served and that unaccompanied minors or those with insufficient photo ID will be unable to enter the venue.
ix. Minors are permitted to attend licensed 18+ ticketed concerts at Fremantle Arts Centre if accompanied by a parent or legal guardian. The person accompanying the minor must be at least 25
years old. MAXIMUM OF TWO minors per parent or legal guardian. All minors must hold a valid ticket and guardians may be required to sign a declaration upon arrival which states that they will provide full and constant supervision of the minor(s). Fremantle Arts Centre does not recommend South Lawn Concerts as suitable for juveniles. Infants do not receive free entry. Fremantle Arts Centre strongly recommends these events as unsuitable for children 6 years and under.
x. Where an event is licensed, or has licensed areas, official Australian 18+ photo identification will be required for entry (driver's license, passport). Any patron refused admission due to inappropriate
identification has no right to any refund or exchange.
xi. Patrons under the age of 18 attempting to enter any licensed areas by way of force, stealth or false identification will be ejected from the event immediately with no right to any refund or exchange.
Any patron engaging in behaviour deemed to be dangerous, hazardous, intimidating or offensive to other patrons will be ejected from the event immediately with no right to refund or exchange. This
will include but is not limited to running, throwing objects, aggression and crowd surfing.
xii. Whilst every precaution has been taken to ensure the event area is a safe environment, you enter the site at your own risk and undertake to notify venue staff of any hazards or dangerous situations that you notice while on site.
xiii. Fremantle Arts Centre is a smoke free venue. Smoking is only permitted in a small designated area.
xiv. Fremantle Arts Centre accepts Companion Cards. The person carrying the card receives free entry to the event.

Please visit www.fac.org.au/concerts for full venue information