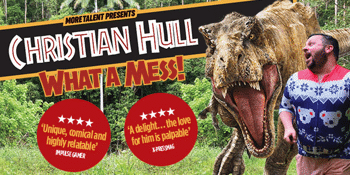 More Talent and New World Artists presents
Christian Hull - What a Mess!
Edge Hill Tavern (Cairns, QLD)
Friday, 8 October 2021 9:00 pm
Second Show Announce!
Christian is a disaster. He is afraid of the outdoors and almost everything else. This show is about those times he has had to fend for himself and it's almost definitely ended in near death experiences.
After a sell-out stand-up debut at Melbourne International Comedy Festival, Christian takes his flagrantly frank, frighteningly honest and disarmingly hilarious tell-all comedy show on the road!
Christian has built a huge audience from documenting his mess of a life all over socials. His hilarious characters, parenting parodies, paint guessing and T-shirt folding escapades have earned Christian an ever-expanding army of almost three million online followers.
With a career trajectory taking him straight into the comedy and media stratosphere, a Christian Hull live show is not to be missed – book early!
'Hull is such a delight… his appeal is far reaching and broad and the love for him is palpable.' X-PressMag
'Unique, comical and highly relatable' Impulse Gamer