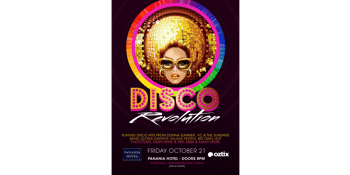 Disco Revolution
Panania Hotel (Panania, NSW)
Friday, 21 October 2022 8:00 PM
Calling all South East Sydney LOVERS OF DISCO & DANCE!
Friday October 21 at Panania Hotel we bring back the DISCO era of music of the 70's and 80's!
Slip on your flares, step into your platforms and get ready to enjoy all the Disco Classics that have become anthems in their own right.
All your favourites from Tina Turner, Donna Summer, The Bee Gees, KC and the Sunshine Band, Gloria Gaynor, Hot Chocolate, The Village People and many more to keep you on the dance floor.
Disco is back and you are invited to join us as we take you on a journey to the decade where this DISCO REVOLUTION started.
Come and experience a night like no other and be a part of the DISCO REVOLUTION