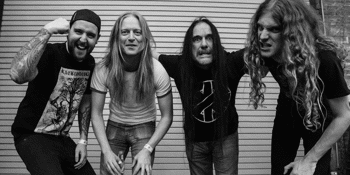 The Triffid (Newstead, QLD)
Wednesday, 25 March 2020 7:30 PM
Having been already announced for Download Festival 2020
, CARCASS
are now set to carve up the rest of the country, with a selection of sideshows added!
CARCASS
are the undeniable legends and forefathers of grindcore! With over 30 years of developing and crafting their sound to what it is today, r
eleasing several classic albums in that time
and changing the trajectory of extreme metal with each consecutive release. Whether it was inventing gore-grind (»Reek of Putrefaction« & »Symphonies of Sickness«) or creating the template for melodic death metal (»Heartwork«), CARCASS has always made records by which bars were set and rules were broken.
The hugely anticipated comeback album

'Surgical Steel'

, rose to the occasion and gave fans an album that held up to their classic repertoire and delivered

another milestone

, with every era of the band represented.