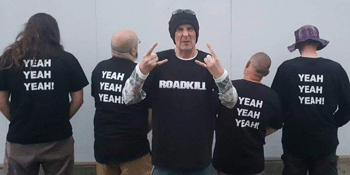 Roadkill
Suns Of Solemn, Well Hung Monkey
Saturday, 24 August 2019 8:00 PM
Altar welcomes the return of Hobart rock 'n' roll royalty for a showcase gig on Saturday August 24.

This will be the only Hobart show in 2019 for hard rockers Roadkill, who will be playing songs from their critically acclaimed albums Extinct and Ruled By Machines.
They will be joined by psychadelic doom rockers Suns Of Solemn, featuring a new line-up as they make their return to the live circuit after 12 months off the road.
Opening the night is 90's grunge outfit Well Hung Monkey, who, after a four year hiatus, are recharged and raring to go with a new line-up and new songs.
This show is an 18+ event with FREE ADMISSION.