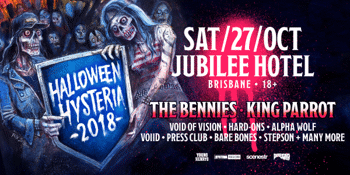 Young Henrys and Hysteria Mag present
Halloween Hysteria 2018
with The Bennies and King Parrot
Jubilee Hotel (Fortitude Valley, QLD)
Saturday, 27 October 2018 12:00 PM
Young Henrys and Hysteria Mag, in association with print media partner Scenestr and outdoor media partner Dead of Winter Festival, present a celebration of all things loud: Halloween Hysteria!
Halloween Hysteria is a day-long event at the iconic Jubilee Hotel in Brisbane's capital of live music, Fortitude Valley, taking place on Saturday 27 October. Featuring 41 bands over three stages representing the cream of Australia's heavy talent, the big gig features stoner party legends The Bennies and that fierce thrash metal blaze from the Southern States, King Parrot, as featured headliners.
Appearing at this exciting event are Void Of Vision, punk legends the Hard-Ons, metalcore upstarts Alpha Wolf, rising stars Bad Juju, Singaporean rockers Exhibitors, indie darlings Press Club, VOIID, Bare Bones, Stepson, Hanny J, Fireballs, Black Rheno and many more.
The event is a special show for Halloween. (Moshers beware, you're in for a scare!)
Halloween Hysteria 2018 Line-Up
The Bennies
King Parrot
Void Of Vision
Hard-ons
Alpha Wolf
VOIID
Press Club
Bare Bones
Stepson
Bad Juju
Hanny J
After Touch
Drown This City
Outright
Fireballs
AViVA
Black Rheno
Resist The Thought
Earth Caller
Exhibitors (SG)
Apate
Falcifer
Hammers
Driven Fear
Arteries
Valhalore
Bakers Eddy
The Wrath
Kill The Apprentice
Deraign
Blind Man Death Stare
We Set Signals
Radolescent
Hey Baby!
Beth Lucas
From Crisis To Collapse
Seraphic
Massic
He Danced Ivy
In Ashes
Being Jane Lane
Diskust
Meet the bands you'll hear from this Halloween with our handy guide to ALL the acts on the line-up here.
—————
This is the first festival organised by Hysteria Media, publishers of alternative music news and magazine site HysteriaMag.com. Hysteria Mag have a deep involvement with Australia's heavy and alternative scene, established in 2010. Hysteria Mag has served millions of heavy fans stories on local, national, and international acts across print, digital, internet radio, and video.
"Hysteria and our readers are lovers of all things loud, and we wanted to give people who love this music an event they won't forget," said Editor-in-Chief and event organiser Joey McGahey. "We've got the best of punk rock, metal, metalcore, acoustic music, and everything in between. We think music lovers all over Australia will love what we have in store."
Subscribe to the Hysteria Mag newsletter or visit hysteriamag.com for event updates.
#HalloweenHysteria