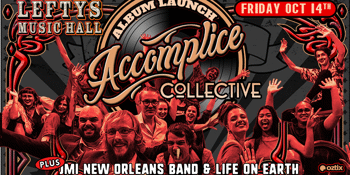 Accomplice Collective Album Launch
JMI Jazz Band & Life On Earth
Lefty's Music Hall (Brisbane, QLD)
Friday, 14 October 2022 6:30 PM
Accomplice Collective will be taking the stage at the iconic Lefty's Music Hall, a culmination of half a decades work is their debut album "Live and Improvised". Supported by the JMI Jazz Orchestra and vistuosic improvisers Life On Earth, jusn us for a night of the Brisbane music scene at it's finest.

Accomplice Collective is a Brisbane/ Meanjin, based group of musicians, singers and MC's
performing improvised Funk, Latin, Reggae and Soul. The "Collective" is comprised of over 60
members. A fusion of up-and-coming talent and veteran professionals. An Accomplice show is
an evolving showcase of revolving musicians and vocalist creating continuous original content,
on the spot.


The JMI New Orleans Band is an 18-piece big band made of up of students from the Jazz Music Institute. The JMI Jazz Orchestra pays tribute to the incredible music of Duke Ellington and Count Basie. Through performing the music of these legends gives the students a strong foundation of understanding the breadth of Big Band music. The JMI Jazz Orchestra performs regularly around Brisbane at various locations and community festivals. In 2021 the JMI Jazz Orchestra toured to regional Queensland and in 2022, toured to Port Macquarie to perform at Big Band Blast.

Through ideas generated from the audience, Life On Earth perform one-time-only songs infusing a serve of life's dynamic experiences, all through a new wave fusion jazz hop sound. Witness the live alchemy of made-in-the-moment heartfelt ballads, expansive bangers and unholy uplifting get downs across the tones of new jazz, hip hop and soul... and then some. Whatever the sound, each show resonates with an intention to affirm the journey of life, while reimagining the spirit of soul-stirring improv.
It's live. It's improvised. It's for a limited time only.