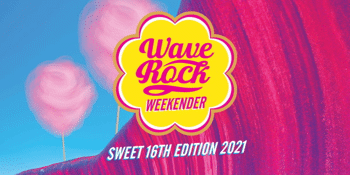 WAVE ROCK WEEKENDER
AMYL & THE SNIFFERS | SPACEY JANE | BABE RAINBOW | JAGUAR JONZE | TIJUANA CARTEL | JACK DAVIES & THE BUSH CHOOKS + MORE!
Wave Rock Resort (Hyden, WA)
Fri 24 - Mon 27 September 2021 1:00 PM
(18+) only / fully licensed event / NO BYO ALCOHOL / No Pets / No CAMPERVANS/ No Caravans/ No Children / VALID ID required for check-in
Hi Wave Rockers! Welcome to the sweetest thing…..WAVE ROCK WEEKENDER 2021, sweet #16!
LONG WEEKEND 24-27 SEPTEMBER | WAVE ROCK CARAVAN PARK & SURROUNDS, HYDEN, WESTERN AUSTRALIA
2021… we all need some sugar!
Even having the event last year felt like a miracle and it only really happened because of the support, effort and understanding from all the Wave Rockers, our Hyden friends and the amazing Perth music community.
It was one of the hardest, highest pressure events we have ever had to deliver in such uncertainty and at such short notice so we thank every single one of you for keeping it special and getting it.
It was a get together with friends and strangers we all really needed and that only
Wave Rock
can deliver. That shared experience feels even more important to us this year after a very, very long year of covid weirdness so we just can't wait to see you all out there again.
So we can preserve as much of the bill as intended, we lean again into the deep WA well of awesomeness but have sprinkled some East Coast gold into the bill assuming by September borders will let us welcome them here. In the event that isn't possible we will replace any talent prevented from performing with talent from open places so whatever happens we'll have a great time and make sure the music is diverse, suits the time of day and is totally great.
With that in mind we can tell you that we have a super sweet bill of acts & contributors that are aiming to please at Wave Rock Weekender #16! Melting moments in 2021 will be supplied by:

AMYL & THE SNIFFERS | SPACEY JANE | BABE RAINBOW | JAGUAR JONZE | TIJUANA CARTEL | JACK DAVIES & THE BUSH CHOOKS | DEATH BY DENIM | GRACE CUMMINGS | BAD WHIP | GORDON KOANG | CRUCIAL ROCKERS | DAN HOWLS BAND | DANCING IN SPACE DJ's | MAL DE MER | ODETTE MERCY & HER SOUL ATOMICS | RACKA CHACHI | ALTER BOY | SIOBHAN COTCHIN | SUNSHINE BROTHERS | WAVE ROCK ALLSTARS | GENUINECHAN | WEST AUSTRALIAN BADASS GOSPEL CHOIR | YOUR GIRL PHO | COLLARD FAMILY | HUGE MAGNET & FRIENDS | BOOGIE BOX DJ's

Plus SALT POND | WAVE ROCK PROJECTIONS BY 4D EMPTY | LATE NIGHT CINEMA | LOADS MORE

We will need to continue to run the two campsite format for 2021 and 2022 at least while COVID bubbles away but the local community and the Wave Rock team have come together to make many improvements to both sites.

Caravan Park Camp OG:
Will have a limited capacity, the set-up will be the same as the original Wave Rock (bar tent, original stage & food set-ups) and will run a secondary live & DJ music programme 11AM-11PM so it feels like home and you can enjoy an earlier night if you need - or you can go wild at the Amphitheatre until very late if you wish. A fully serviced site but less intense site for OG's who like it over there. There'll still be projections & soundscapes on Wave Rock at night.

Amphitheatre Camp:
The locals are hard at work right now grading, installing power, water, toilets, showers and car parking at the Amphitheatre Camp to get rid of the surface of Mars theme camp space we had last year. We'll be putting in extra shade and facilities in that area this year too and that site sits alongside the main arena/stage, main bar and food outlets and is a short walk from the salt pond and Lake Magic Sunset installation. We have also beefed up facilities at the salt pond and will be doing some extra stuff there too.

Add Ons…
New Totem Glamping Option
We have basic tent/mattress options in both camps as usual ($90+bf for weekend) but we also have a new Totem Glamping artists & glamping camp with luxury walk in bell tents available for people who want to arrive with everything comfy and ready.

All tents will include bed and linens, lamps, dream catcher, tissue, hand sanitizer, water, room essence, flowers at $480+bf for 2 people for the weekend. Check Totem Glamping online for pics.

Either of these items can be added to your ticket purchase.

COVID Business
Although the event is set up to be able to operate in both phase 4 and 5 conditions - If we end up with capacity limitations due to any unforeseen COVID restrictions we will refund in order of purchase so as to meet any new capacity guidelines so we can run the show (eg if new limits capped us at 500 then first 500 ticket buyers can come!). If we are limited to the point where we have to cancel and the event is unworkable we will just refund you all.