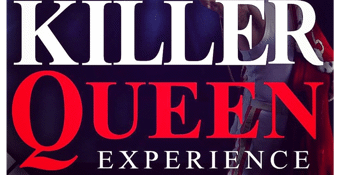 Rocky Glen Hotel presents
Killer Queen Experience
Rocky Glen Hotel (West Gladstone, QLD)
Saturday, 29 August 2020 8:00 PM
Killer Queen are the 21st Century standard bearers and keepers of the flame for the memory and spirit of Queen. Based in Brisbane Australia, Killer Queen regularly perform at festivals and events in Asia, Europe, on Pacific Ocean cruises around Australasia and around the World.

Formed in 2003 by renowned and and by far the most recognized Freddie Mercury tribute artist in the world today,Johnny Blunt, Killer & Queen bring an authentic rock experience to every audience. Johnny was chosen from a world-wide audition search to play Freddie Mercury in the iTV Channel 5 documentary "The Freddie Mercury Story – "WHO WANTS TO LIVE FOREVER", and has also featured on French TV portraying Freddie in front of a viewing audience of 7 million Unlike many other tribute shows, Killer Queen play 100% live with no backing tracks. All KQ band members are well respected musicians and seasoned professionals with each having outstanding resumes, as well as embodying the look and sound of Queen's Freddie, Brian May, John Deacon and Roger Taylor. Killer Queen are the real deal.

The list of milestone performances includes festivals and major events around the world including: London, Glasgow , Newcastle, Singapore, Macau, Norway, Hong Kong, Auckland, PNG, France, India and Thailand. They are featured artists on Royal Caribbean Cruise Lines and have supported such artists as Kelly Rowland, Icehouse, Journey and Foreigner. Just last month performing with the Canberra Symphony Orchestra in front of 15,000 people , an Australian first for a Queen show here in Australia.

Killer Queen have a global army of loyal fans and social media platforms reinforce the incredible experience of seeing the band perform live. Their sell-out concert shows are a high energy feast of the smash hit catalogue of the original band. In 2018 rock royalty lives on, in Killer Queen!

it's safe to assure that Killer Queen are guaranteed to blow your mind... Anytime!