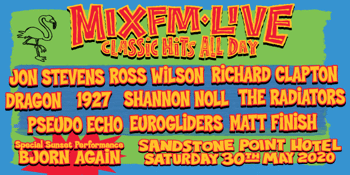 Empire Touring presents
MIX FM LIVE
feat. Jon Stevens, Ross Wilson, Richard Clapton, The Radiators, Dragon, 1927, Shannon Noll, Pseudo Echo, Eurogliders, Matt Finish & Bjorn Again
Sandstone Point Hotel (Sandstone Point, QLD)
Saturday, 22 May 2021 1:00 pm
For the fifth consecutive year, and a massive sold out show last year, 92.7 Mix FM and Empire Touring are thrilled to announce, MIX FM LIVE – CLASSIC HITS ALL DAY 2020! Keen as ever to entertain you, the 2020 lineup is bigger than ever before and once again you'll be transported to Oz Rock heaven with a blockbuster line-up, delivering your favourite superstar acts of the 70s, 80s and 90s coming together for one night only at the Sandstone Point Hotel on Saturday 30 May, 2020, PLUS a special sunset performance by one of the world's most highly rated ABBA tribute acts BJORN AGAIN!

MIX FM LIVE will be SIX hours of hits and memories from fourteen of Australia's most well-loved 70s, 80s and 90s hit makers gracing the stage and taking a whole generation back to a time when rock 'n roll was a way of life and there wasn't a camera phone in sight. There's sure to be a whole lot of reminiscing and more than a few sing-alongs from the enthusiastic crowd, and stand by for news updates, as there's more to come!

MIX FM LIVE saw its first incarnation in Sydney in 2014 as the PURE GOLD LIVE concert series. PURE GOLD LIVE was an overwhelming success selling out well in advance and inciting a whole lot of reminiscing and more than a few all in sing-alongs from the enthusiastic crowd. The event was so successful, that it rolled out across the country in 2015 and since then, this series of concerts has now established itself as one of the most popular and successful live shows in the country.

92.7 MIX FM are thrilled to once again, be presenting MIX FM LIVE hosted by MIX FM Breakfast's Mark & Caroline.

Mark Darin, 92.7 Mix FM Breakfast Announcer said: "This line up is incredible! I just hope I can grow my mullet back before May!"

Caroline Hutchinson, 92.7 Mix FM Breakfast Announcer said: "This is the biggest 80's line up I have ever seen. I don't know what business The Radiators have being on stage with Richard Clapton but I am totally here for it!!!"

Without further ado, the legendary artists set to rock the Sandstone Point Hotel for MIX FM LIVE – CLASSC HITS ALL DAY 2020 are (drum roll please) …

For over 20 years, JON STEVENS has maintained a remarkable career as a singer, songwriter and performer, first coming to prominence as the lead singer of ARIA chart-topping, Sydney band, Noiseworks. The band experienced major success in the 1980s and early 90s with hits like Love Somebody, Take Me Back, Touch, Hot Chilli Woman and Miles and Miles. The next 10 years were a whirlwind for JON STEVENS, appearing in three Australian productions of Andrew Lloyd Webber's Jesus Christ Superstar before fronting INXS from 2000 to 2003. JON STEVENS has established himself as one of Australia's finest performers, and one only needs to listen to a record or see him in his element – his live shows – to realise what has made STEVENS a spirited and gifted musical talent.

Now Listen! Mr Eagle Rock, ROSS WILSON, 2 time ARIA Hall of Fame Inductee, founder of Daddy Cool and Mondo Rock continues to have a Hell Of A Time while Living In The Land Of Oz. Always believing Ego Is Not A Dirty Word, the Skyhooks and Jo Jo Zep producer hasn't stagnated by Living In the 70's, but continued moving like The Fugitive Kind through the Summer of 81 into the 21st Century following his credo All I Wanna Do Is Rock. When the Chemistry is right to Come Back Again, he'll get up off his Bed Of Nails, bring A Touch of Paradise to your Cool World and examine your State of the Heart. With No Time to lose practicing Primitive Love Rites in Primal Park, Things Are Hotting Up with Wilson's song I Come In Peace being covered and becoming Joe Cocker's last hit single. Come Said The Boy, to a Ross Wilson show in a venue near you, because we all know You've All Got To Go!
When he was 16 he inveigled his way into a Sydney hotel to hang out with the Rolling Stones. From that day on, RICHARD CLAPTON knew he was going to be a rock star. It's now almost 50 years since that fateful day -years filled with a lifetime of incredible experiences, outrageous good times and a catalogue of iconic and timeless songs. Through the glory years of rock 'n' roll, in cities as varied as London, Berlin, Sydney, Los Angeles and Paris, Richard forged his own career and built up a significant body of work while living, loving and partying with the biggest names in the Australian and international music world. For 40 years, Richard Clapton has been, above all else, a songwriter-a wry observer of human behaviour and an astute commentator on the Australian condition. His best songs- Deep Water, The Best Years of Our Lives, Goodbye Tiger, Glory Road, Lucky Country, Girls on the Avenue, Trust Somebody and Capricorn Dancer - capture the essence of this country and the meaning of our lives like few others.

THE RADIATORS formed 1978 , Led by Brian Nichol the band are renowned for delivering a night pub rock anthems .The albums Feel the Heat (March 1980) and Scream of the Real (May 1983), both topped the charts . The singles "Coming Home", "No Tragedy" and "Gimme Head" are Aussie classics . Rock music historian, Ian McFarlane described the group as "an archetypal, hard-working pub-rock band capable of delivering tightly crafted, well-executed, hard-hitting metal-pop anthems backed by a playful sense of humour. The band tour constantly, racking up over 3500 gigs. The Rads really know how to deliver a fun filled night of Aussie Pub rock

DRAGON formed in 1972 and became a household name with hits that remain classics, such as Rain, Are you Old Enough?, Still in Love with You, O Zambesi and 1977's hit summer anthem April Sun in Cuba! After the untimely death of enigmatic lead singer Marc Hunter, DRAGON are now led by bass player Todd Hunter and New Zealand singer MARK WILLIAMS. DRAGON's imprint on a generation was affirmed when Are You Old Enough? was used in the opening credits of the hit TV series, Puberty Blues. In 2008 the Australian Recording Industry Association recognised DRAGON's iconic status when they were inducted into the ARIA Hall of Fame and in 2012 they celebrated their 40th anniversary with a string of sell out shows across the country.

Known for enduring hits such as That's When I Think of You, Compulsory Hero, 'To Love Me, Scars, Don't Forget Me, and, of course, If I Could, 1927 made a devastating entry into the ears of its listeners with the Quintuple Platinum selling album …ish in 1988, which earned the band a slew of ARIA Awards as well as a lot of fans along the way. Following up …ish with the multi-platinum second album The Otherside, a self-titled third album, and countless live shows at home and abroad, the last couple of decades have certainly earned 1927 legendary status. Not content to rest on their laurels, after more than ten years, 1927 released a new studio album Generation i last year. It may just be the band's finest album yet.

SHANNON NOLL…straight from Condobolin to TVs in every lounge room across the country courtesy of the very first season of Australian Idol. Since the the release of What about me, 15 years ago, Noll has released five top ten albums, including two number-one multi-platinum sellers. He is the only Australian male artist in Australian chart history to have ten consecutive top ten singles. Noll's debut single "What About Me" was certified 4× platinum and became the highest selling single of 2004 in Australia. Shannons' popularity has never waned and he continues to deliver sensational live performances. We've heard it ring out from the top of the charts so many times and 2017 saw him in the finest voice of his career on his current album, Unbroken.

PSEUDO ECHO formed in 1982, releasing their first album, Autumnal Park, in 1984 which skyrocketed the band to household name status across the country. Their second album, Love an Adventure, spawned another string of hits including its title track, Don't Go, Try, Living in a Dream and their remake of the Lipps, Inc. song Funkytown, which brought the group their biggest international success and spent seven weeks at No. 1 in Australia from December 1986. In 2012 PSEUDO ECHO celebrated their 30th anniversary and their ever-evolving look and sound continues to attract a whole new generation of fans with albums such as 'Teleport'er, 'Ultraviolet' and 'Live at the Viper Room'.

EUROGLIDERS took the charts by storm in the 1980s. Audiences were blown away, and Grace Knight captivated fans with her 'manic ballerina' stage persona. In 1984, Eurogliders released their album This Island, which spawned their No. 2 hit single, Heaven (Must Be There). Heaven also peaked at No. 21 on the United States Billboard Mainstream Rock chart, and appeared on the Hot 100. Another Australian top ten album, Absolutely, followed in 1985, which provided three further top ten singles, We Will Together, The City of Soul and Can't Wait to See You. Grace and Bernie, along with their superb band, have reunited to once again captivate audiences with their sophisticated and high-energy brand of pop.

Best known for their hit songs Short Note, Mancini Shuffle, Hot Cover and Fade Away, classic Australian rock band MATT FINISH are one of the most independent, inventive, powerful and popular live bands from the eighties, influencing and influenced by friends and contemporaries in Midnight Oil, INXS, Cold Chisel, Icehouse, The Ramones, XTC and U2. Matt Finish 2018 features founding member and multi-award winning composer and producer John Prior, star of stage and screen Ric Herbert, Steve Williams from Wa Wa Nee and Phil Hall from The Lime Spiders.

Plus a special sunset performance by BJORN AGAIN who are the world's most popular ABBA Tribute Show. Bjorn Again perform all the biggest and best ABBA hits in a highly-entertaining world-class show that is fun for all ages and nationalities. Critically acclaimed, endorsed by ABBA, praised by the world's biggest rock stars and adored by fans worldwide and currently celebrating their 30th Anniversary!