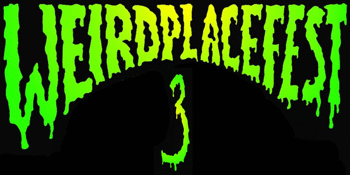 Thrills, Childe Eyewear, Oh Jean Records, Young Henry's and Jameson's present
Weird Place Festival 3
with Horace Bones, Mini Skirt (NSW), Velvet Elevator (NSW), Slag Queens (TAS), Vintage Crop, Empat Lima, Gonzo, 100 (NSW), ARSE (NSW), Dr Sure's Unusual Practice, City Rose (NSW), Concrete Lawn (NSW), Liquid Face (NSW), Stone Witches (QLD), Floodlights, Program, Future Suck & UAV
The Tote (Collingwood, VIC)
Saturday, 19 October 2019 3:00 PM
Weird Place and Thrills and very proud to present WEIRD PLACE FEST 3!

After the selling out the first 2 festivals we have stepped things up taking over the entirety of The Tote venue, with 18 bands from 4 states over 3 stages.

LIMITED PRE SALE TICKETS $25!

Line up -

Horace Bones
Mini Skirt (NSW)
Velvet Elevator (NSW)
Slag Queens (TAS)
Vintage Crop
Empat Lima
GONZO
100 (NSW)
ARSE (NSW)
Dr Sure's Unusual Practice
City Rose (NSW)
Concrete Lawn (NSW)
Liquid Face (NSW)
Stone Witches (QLD)
Floodlights
Program
Future Suck
UAV

FB EVENT -
https://www.facebook.com/events/483037652253061/

Thanks to our sponsors THRILLS, CHILDE EYEWEAR, OH JEAN RECORDS, YOUNG HENRYS and JAMESON'S. All pre sale ticket holders will go in to a draw to win prizes donated by our sponsors (more details TBA)

More details to come over the coming weeks!