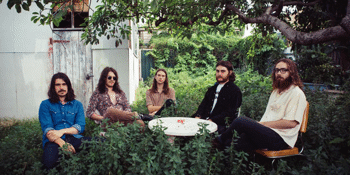 Pseudo Mind Hive 'Of Seers & Sirens' Tour
Zong and The Royal Artillery
The Bunker @ The Imperial Hotel Eumundi (Eumundi, QLD)
Saturday, 18 January 2020 7:30 PM
After bursting onto the Melbourne psych scene in June 2017, Pseudo Mind Hive have been working on a multitude of new music as well as maintaining a rigorous gigging schedule. The band's first full length release, 'From Elsewhere', showcased a plethora of hypnotic grooves and heavy fuzz-laden riffs that laid the groundwork for much more to follow.
After a sold-out album launch and an exhausted supply of two limited runs of 12" records, the band spent the remainder of 2018 captivating audiences up and down the east coast of Australia with their powerful live performances, including supporting the likes of Samsara Blues Experiment (GER), Stonefield and Psychedelic Porn Crumpets.
In 2019, PMH have shown no sign of slowing down, starting off the year by supporting psychedelic heavyweights Earthless (USA) and 1000 Mods (GRE), alongside releasing a third limited edition pressing of 'From Elsewhere' through Copper Feast Records (UK) to satisfy international demand for the album to be brought back into print.
In October 2019, PMH released their sophomore LP 'Of Seers and Sirens' through Salty Dog Records to critical acclaim, the album taking them to new sonic heights. They are now gearing up to take the album on the road with a nation-wide tour.
Let Pseudo Mind Hive's piercing solos, ethereal vocals, earth-rattling bass lines and spacey celestial explorations permeate every fibre of your corporeal form.

Pseudo Mind Hive will be joined by special guests Zong and The Royal Artillery.