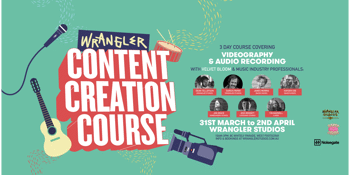 Wrangler Studios + Baked Goods present
POSTPONED - Content Creation Course
with Velvet Bloom, Tim Maxwell, Jon Grace, Jess Bennett
Wrangler Studios (West Footscray, VIC)
Tue 31 March - Thu 1 October 2020 10:00 am
POSTPONED - NEW DATE TBA
Wrangler is providing a space for 3 days (31/3 - 2/4) that participants will learn the fundamentals videography and sound engineering taught by mentors well known within the music industry. We will be filming 2 Wrangler Sessions with Velvet Bloom using cinema quality cameras, and tracking audio through the Wrangler studio.
Splitting into 2 groups, Videography ran by James Morris and Hayden Dib from Baked Goods, and Audio Engineering ran by Dean Tellefson and Darius Papak from Wrangler Studios. We've also special guests Tim Maxwell (Loser), Jon Grace (Home Surgery Recordings; Dear Seattle, Dune Rats) and Jess Bennett from Love Shack Studio to come and share their favourite tips to create the perfect sound!
It will be an intimate workshop to develop your skills, meet like minded people, and learn from the best!


Interested? Find out more information here!