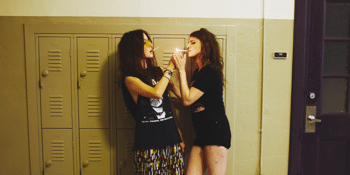 Damaged, The Drunk Promoter & Vinnie's Dive!
Birdcloud (USA), Private Function & JJ Speedball
Vinnies Dive (Southport, QLD)
Saturday, 20 October 2018 8:00 PM
OPENING WEEKEND AT VINNIE'S!
with special guests Birdcloud (USA), Private Function, JJ Speedball and more to be announced!

BIRDCLOUD
Banned from YouTube, booed at America's Got Talent, and lauded for their irreverence by a global cult following, Birdcloud's music has been referred to as the ravenous id of today's commercial country
sound. Nashville natives Jasmin Kaset and Makenzie Green have spent the last 5 years touring dive bars and lavish theatres across America and Europe and are now celebrating the release of "Singles Only," a collection of their greatest hits on double cum-coloured vinyl.

PRIVATE FUNCTION
Formed in late 2016, Melbourne's Private Function have consistently brought their brand of Melbourne sticky-carpet-pub-punk fury to the national stage. Running off the back of their Six Smokin' Songs and Rock In Roll cassettes, the band's no-holds-barred rock 'n roll onslaught has taken seen the band supporting the likes of Frenzal Rhomb, Me First and the Gimme Gimmes and The Smith Street Band, in addition to their 2017 east coast headline Tour of the Century and acclaimed appearance at Gizzfest.

JJ SPEEDBALL
Spawned in 1989 at a illegal high school party involving, yuppies, italians, punks, bangers and the local firebrigade, JJ Speedball has gone from strength to strenght notching anything and everything that has been served up to this rock and roll institution.

Numerous album, Ep, single releases, International and national tours, club shows, pub shows, squats, festivals, bedding celebrities, high energy stage performances, hardcore partying and living large. Has seen most bands one would care for and continues to wave the rock'nroll flag for enjoyment, justice and the cherry arse way.