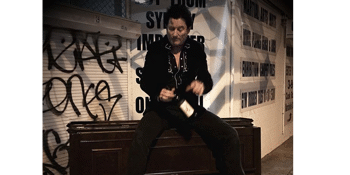 Jo Meares and The Silver Bullets, Golden Fang (NSW)
Swamplands Bar (Thornbury, VIC)
Saturday, 2 October 2021 8:00 pm
We are very excited to be welcoming back from NSW the wonderful Jo Meares and his brilliant Melbourne based band: Dave Milne(drums), Trent McKenzie(bass) and Mark McCartney(guitars). Jo is supported by Golden Fang who are also making their first trip over the NSW border in years and others to be announced soon!

The "...melancholia of wide open plains and corrugated iron, caressed by occasionally passing heavenly choirs of grievous angels and chain gangs"
Clem Bastow's description of Jo's single of the week 'I Loved You More That Day' in Beat magazine in 2010.

Jo's first solo album 'A Handful of Smoke' was awarded Australian Album of the year on the highly respected radio show Outpost on 2SER.
It was recorded over 2 years in France, Sydney and Melbourne involving members of Charles Jenkins and the Zhivagos, French pianist Lisa Barel and what were to become his band the Honeyriders...

"Jo Meares' music is unique with a truly original sound. He is a wonderful singer-songwriter and incredible live performer.
His 3 albums released to date ('A Handful Of Smoke', 'One More Time' and 'King Of The Crystal Mountain') are all classic Australian recordings.
Part Neil Young, part Lou Reed, part Nick Cave – but with a uniquely Australian twang!"
- Vinny Ramone, Outpost show 2SER

Doors: 8pm
$15 + b.f.