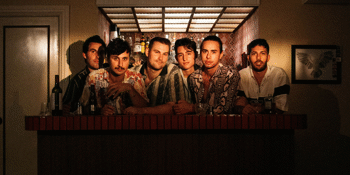 Mel Blue
with Bread Club + Madame Rêve
Waywards (The Bank Hotel) (Newtown, NSW)
Thursday, 2 April 2020 8:00 PM
Introducing Mel Blue; The Electronic Pop 6 piece from Sydney Australia. With their obsession for nostalgia and rhythm, Oscar Sharah (vocals) and Luke Gerber (bass player) have self produced/recorded Mel Blue in their bedrooms and studios across Sydney's East.

The project started with Oscar and Luke creating music that aimed to transport listeners back to specific personal memories, all while making you dance and move at the same time. "Mel Blue" is an alter ego for the pair, coming from an abbreviation of "melancholy blue". Oscar and Luke describe "Mel Blue" as the synaesthetic experience of feeling reminiscent yet present, lost yet grateful, melancholic yet content all at the same time.

The first Mel Blue release was "South" which came out at the end of 2018. Just over a year on the band is set to release the first single off their debut album.