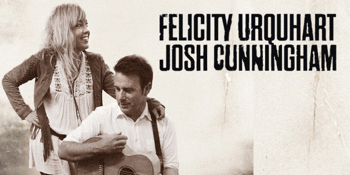 Imperial Hotel Presents
Felicity Urquhart & Josh Cunningham (WAIFS)
Imperial Hotel Eumundi (Eumundi, QLD)
Friday, 28 May 2021 7:30 PM
Unlikely, unexpected, unforgettable, unique, not to be missed!
The musical uniting of Felicity Urquhart and Josh Cunningham (The Waifs) is as unscripted as it is unforeseen.
The unpredictable unfolding of recent events has been the undoing of many as the world has adjusted to an unfamiliar reality. Undeterred and unsatisfied with being unproductive, Felicity and Josh unearthed an unpaved road forward and undertook the journey united, uncovering an uncanny musical unison as they left no song unsung.



Until now, this union has remained undercover, unmasked only to select audiences under the age of 10. Both of Felicity's daughters were unanimous in their unbridled praise.




"So not uncool" Tia, age 9




"Unicorn" Ellie, age 7





In the face of an uncertain future, music uncontrived and untainted by the demands of fashion will forever remain undefeated. Understated but never unsophisticated, unpretentious and unlike anything else, Felicity Urquhart and Josh Cunningham are poised to unleash songs and stories of undeniable beauty upon hearts and ears. Unless you uncork this fine wine, drink for yourself and understand, you will be unsatisfied, and your life will be unhappy.
Felicity Urquhart

Felicity Urquhart has long been one of the best-loved and most decorated singer-songwriters in Australian song. In a career encompassing seven studio albums, two EPs, and countless sold-out headlining shows and capacity festival appearances.
Felicity's Golden Guitar Award tally now sits at fourteen. Her seventh solo studio album 'Frozen Rabbit' collected 5 GG's at the 2019 CMAA's and was also nominated for a 2019 ARIA Award in the Best Country Album category. These accolades acknowledge the strength of the album, Felicity's first stand-alone album release in over a decade, and her first since signing a new record deal with ABC Music.
"Felicity has a heart as pure as the wind" - Randy Scruggs
"Frozen Rabbit is as good as it gets. It also ticks off several key Urquhart basics: it's well written, well produced, well sung, well intentioned." Bernard Zuel
Josh Cunningham
Watching Marty McFly (aka Michael J Fox) shredding out on Johnny B Goode as he duckwalked across the tv screen proved to be the most defining of moments for thirteen year old Josh Cunningham. Having previously dabbled with a ukulele as a young boy, you might say his musical career had in some sense gotten started, but this "Back to the Future" revelation changed everything. Instantly captivated, he knew there was no going back. His future was sealed.
Dusting off an old family guitar, he taught himself everything he knew and within no time was gigging in local cover bands - playing in pubs years prior to gaining the legal right to even enter such establishments.
After high school, music took him to the other side of the country where his path crossed with two sisters from Albany, Western Australia and together they formed "The Waifs" in 1992.

The ensuing years have seen the band weave their thread tightly into the fabric of Australian music. 10 albums, multi-platinum sales, extensive touring of Australia and the world, ARIA awards, induction into the Australian Songwriters Association hall of fame, countless festival appearances the world over, touring with acts as diverse and notable as Bob Dylan, Keith Urban, Billy Bragg and Weddings, Parties, Anything, are but a few of their accomplishments over a career approaching thirty years. Along the way Josh has also ventured beyond The Waifs, writing songs for Sara Storer and co-producing her 2007 album "Silver Skies", as well as playing guitar with Missy Higgins during the first three years of her career.
As grateful as he is for the many years of accomplishments, Josh has always felt that the most gratifying measure of success has simply been the ability to make a life out of playing music and the opportunity to contribute something meaningful and important to the world. "Hearing the incredible stories of how the music I've been a part of has helped many people through life's trauma and helped many others celebrate life's beauty makes me proud and humbled to be involved with something as important as writing, recording and performing songs."

As 2021 begins, Josh has found himself writing and recording with country music superstar, Felicity Urquhart. The two will begin performing together later this year. "I can't think of a time when I've felt such a need for the healing force of music. The world seems to be groaning under the burden of upheaval on many fronts and while music doesn't make hard realities disappear, it certainly softens them and provides an opportunity for folks to to celebrate and come together. In the face of all that's wrong in the world, music will always be right."

Doors open at 7.30pm

To comply with Covid-safe practices, there is LIMITED seating at this event. Seating is non-allocated - first come, first served. There will be plenty of standing room.
Ticket holders' information will be collected for the purposes of Track & Tracing to comply with current restrictions. Providing your info is a condition of entry to this event.

Imperial Hotel Courtesy Bus
The Imperial Hotel's FREE courtesy bus operates Friday and Saturday nights from 5pm, travelling to Eumundi, Belli Park, Cooroy, Doonan, Eerwah Vale, North Arm, and Verrierdale.
Phone Aaron on the day on 0478 814 169 to book.