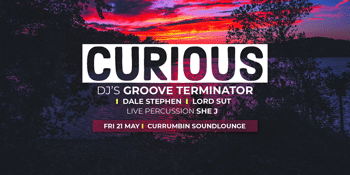 Cunning Stunts
CURIOUS - Groove Terminator
GROOVE TERMINATOR + SHE J (Live percussion)
The SoundLounge (CURRUMBIN, QLD)
Friday, 21 May 2021 6:00 PM
LIMITED TICKETS
We are utterly stoked to have DJ GROOVE TERMINATOR (GT) for our 2nd Curious show @ Soundlounge Currumbin with resident DJs Dale Stephen & Lord Sut + SHE J on Live percussion ( Tijuana Cartel )
Catch GROOVE TERMINATOR in a rare intimate club style show with a 2 hour set on a big KV sound system - expect plenty of classics. Check the mix below that he made specially for us to get you in the mood.

Curious - DJ's and Live Musicians creating cosmic osmosis. A party with a conscience that has raised $325k for local charities and awarded Community event of the year in 2020.

SOUNDLOUNGE - Air Con large room, outdoor relaxing deck over looking the creek and plenty of room to dance.

In line with our fundraising ethos 10% profits will be donated to Bravehearts to help educate, empower and protect our kids.
Child sexual assault harms us all; protecting kids is everyone's business.
Cunning Stunts will continue to donate a % of profits to local charities, we have so far donated $325k+ so far, helping 28 charities.
Awarded Community Event of the Year - Byron Shire Council Australia Day Awards 2020
"Hands Up, the best party and crowd in Australia"
Phil Perry (Full Circle UK / Leftfield's first tour DJ)
Lighting Tim Wild, Decor - Elke Van Rees, Sound - Soundlounge


ARTIST INFORMATION

GROOVE TERMINATOR
Arguably Australia's first 'Superstar DJ', Simon Lewicki has been at the top of his game as both a DJ and music industry professional for over 34 years. His Australianand US Billboard #1 single "Is It Love" in 2001 rocketedhim to international fame, culminating in Gold recordsand nominations for Best Male Artist at the ARIAAwards (Australian Grammys).
Simon is considered an elder statesman of the business by his peers both domestically and internationally. Simon has been working with Ministry of Sound Australia as the Creative Director for their successful national touring Orchestral show in recent years, as well as being head of A+R for the Music Publishing division he co-founded in 2010. 2020 saw GT team up with 3 x Grammy winning, the legendary Soweto Gospel Choir for Adelaide Fringe with a sold out season of their collaboration - History of House, which won the Fringe Best Music Award. GT x SGC returns in 2022 once again for Fringe & a national tour. A world tour and an album is also in the works.
GROOVE TERMINATOR
LISTEN >
http://posterchild.com.au/artist/groove-terminator
____________________
LORD SUT
Lord Sut founded Cunning Stunts with the epic Nudge Nudge Wink Wink fundraising parties named as event of the year in 2016 by local media and raising +$325k for local charities in Northern NSW. Awarded Community Event of the Year by Byron Shire News in 2016 and by Byron Shire Council in the 2020 Australia Day Awards.
His DJ sets break the confines of genre. With a varied and deep musical taste, Sut knows how to gratify and satisfy with an effortless blend of chill, dub, soul, funk, electronic, cosmic, leftfield, disco, indie and house. If you want one word it's Balearic. If you need two, add eclectic.
Lord Sut has supported local and international artists & played on the same bills with LCD Soundsystem, Bonobo, Fat Freddy's Drop, Sigur Ros, Faze Action, Skunkhour, Talvin Singh, Chris Coco, Tijuana Cartel, Salmonella Dub & Pitch Black.
LISTEN - https://soundcloud.com/sut
____________________
DALE STEPHEN
Dale Stephen is a founding member of Cunning Stunts and Resident DJ at their CURIOUS and Nudge Nudge Wink Wink FUNdraising parties every month. A longtime Sydney based DJ/Producer he relocated to the Byron Bay shire in 2014.
Known for his delicious sets consisting of Deep Disco, Nu Funk and dubbed-out-Disco-House interspersed with his own lauded edits and original tracks, he has played at leading festivals, clubs and parties for over two decades.
A veteran of Sydney's Dance Radio scene, including Rhythm FM, 2SER, and BondiFM, he currently shares a Saturday afternoon 4-6pm radio show – Solar Love Machine on Byron's beloved BayFM with Lord Sut. Known for the joy his sets bring to dancers and listeners alike, Dale is recognised as an Australian DJ, producer, musician, promoter, and electronic music enthusiast.
LISTEN > https://soundcloud.com/djbrevil/
____________________
SHE J
Live percussion from Tijuana Cartel's Sheila. A power force in rhythms adding vibes and energy with that big happy smile.
DJ / Percussionist / Producer. Genres: Afro, Electronica, Deep House, Tech house, Techno
Influenced by artists such as Pezzner, Steve Bug, Audio Fly, Nina Kraviz, Nicholas Jarr, Claptone, Noir, Butch, Monica Kruz, Gorge, Sandeep.
LISTEN > https://soundcloud.com/shej


Change in resale policy
To eradicate all scammers and other fraudulent activities – there will be NO RESALES allowed other than via TIXEL.

ONLY TICKETS purchased via Oztix and Tixel once it is Sold Out are valid for entry.

Tixel ensures a scam free operation for private ticket sales and makes sure the ticket price is fair.

For all other ticketing queries please contact Oztix on admin@oztix.com.au