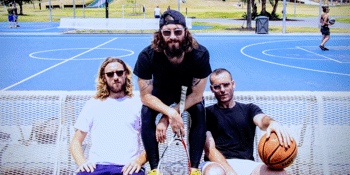 Australia
with Full Magazine & Ces Hotbake
Waywards (The Bank Hotel) (Newtown, NSW)
Thursday, 30 January 2020 8:00 PM
Sydney trio, Australia is the collaboration between music producers Guy Fenech, Nick Franklin and Oliver Marlan. The music has been described as a mix of new wave, post punk, "PubWave", with elements of disco and adult contemporary.
Formed in 2015 with their debut album, Portraits of People, Places and Movies (2016) was met with critical acclaim from the Australian press, including Rolling StoneAU (RIP), Triple J, Musicfeeds and others. Touring domestically with Joe Driver (Belles Will Ring) and Wade Keighran (The Scare, Wolf & Cub) in tow.
Mid 2019 they released a teaser in the form of "Get My Shit Together", from sophomore album due out 2020.