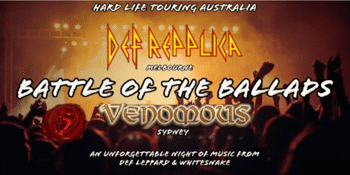 HARD LIFE TOURING AUSTRAL
BATTLE OF THE BALLADS
Manning Bar (University of Sydney, NSW)
Friday, 8 October 2021 7:00 pm
Hard Life Touring Australia Proudly presents an unforgettable night of Rock N Roll.

Battle of The Ballads Brings you two heavy weights of 80's Ballad Rock – Def Leppard Presented by Australia's Best, Def Repplica hailing from Melbourne and Whitesnake Presented by Australia's Premier Tribute Venomous from our very own streets of Sydney.

Both Bands will go Head to head Playing all the hits from 'Pour Some Sugar on me', 'When Love & Hate Collide' and 'Hysteria' to Whitesnake's 'Here I Go again', 'Is This Love' & 'Still of the Night' Plus so Much More to battle it out and show you who is heavy weight king of Rock Ballads!

This Show will be Supported by The Rock Addicts Performing a series of Rock Ballads to get you warmed up and feeling good, this is surely a show not to be missed Live, Loud & Local at The Manning Bar Sydney, Coming to you this October!