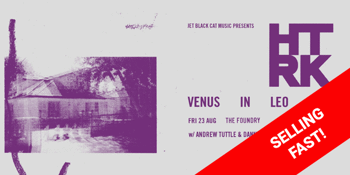 Jet Black Cat Music presents
HTRK "Venus In Leo" Album Launch
Andrew Tuttle, Danny Venzin (DJ Set)
The Foundry, Brisbane (Fortitude Valley, QLD)
Friday, 23 August 2019 8:00 PM
HTRK, the duo of Jonnine Standish and Nigel Yang, launch their new album Venus in Leo in Brisbane with special guests Andrew Tuttle and Danny Venzin (DJ).
Venus in Leo arrives five years on from 2014's Psychic 9-5 Club. While some much-loved HTRK hallmarks remain — the combination of space and intimacy, the unmistakable interplay between Yang's guitars and Standish's vocals — Venus in Leo differs markedly in its energy, returning to HTRK's underground rock past with the stylistic playfulness and variety of a modern mixtape. Recorded more or less live in HTRK's home studio in the Dandenong Ranges outside of Melbourne, the album's simple production reveals gorgeous, toned-back arrangements and an evolving, idiosyncratic songcraft.

It's been ten years since HTRK released their breakthrough first album, Marry Me Tonight. The band has undergone profound changes, with the first two albums released amid the deaths of close friend and collaborator Rowland S. Howard and HTRK co-founder Sean Stewart. Psychic 9-5 Club set them on a path of self-discovery, and Venus in Leo marks a spirited new chapter by one of the most distinctive bands of the past decade.
ANDREW TUTTLE
Andrew Tuttle is a best-kept secret of the Australian underground. A composer, improviser and collaborator who has shared stages with Matmos, Julia Holter, Hauschka, Steve Gunn, Ryley Walker, Deradoorian, Daniel Bachman and many others; Tuttle dwells in a between world of ambient and folk genre that feels like a community all of its own. Tuttle's music, created and performed on banjo, acoustic guitar and electronics, builds a musical universe where sparse decayed banjo and fragile guitar motifs are at one with shimmering filtered delays and bubbling electronics. Like time-lapse photography, it unfolds its colours and textures with an astonishing gracefulness and wonderment. Born of reflection rather than of nostalgia, it is the sound of re-discovering one's local natural and urban environments – and the importance of embracing love, family and friendship in a turbulent world.
Since 2013, over three album releases via the esteemed Room40 label family and regular touring around Australia and Europe, Andrew Tuttle has developed a musical place world, folk and bluegrass rituals, ragas and drones cozy up to electronic technology like they've known each other their whole lives. Holding a space that is abundant and generous, Andrew Tuttle makes outsider music that turns its listeners into insiders — beckoning a journey inwards which unfolds many heart-opening moments along the way.
DANNY VENZIN (DJ)
Danny Venzin from Nite Fields spinning records all night.