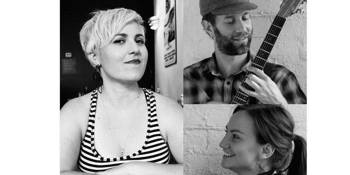 the Songroom
Liz Stringer + Tim McMillan & Rachel Snow
Theatre Royal, Castlemaine (Castlemaine, VIC)
Friday, 14 December 2018 8:00 PM
Currently screening on Melbourne's Channel 31 and worldwide via YouTube, The Songroom is a brilliant new music & chat format entering its 3rdSeason.

Launched in 2016 by The Basics (Kris Schroeder, Tim Heath & Wally "Gotye" De Backer), The Songroom pairs together two artists from opposing ends of the career spectrum – established vs. emerging, known vs. unknown, and – perhaps – jaded vs. hopeful.

These polar experiences are harnessed by host Jess McGuire, who during the two-hour live show, discusses songwriting aspirations, expectations and regrets, all the while bringing these often funny – always poignant – stories back to the music. Together with a live house band, our two Guests go beyond simply observing each others' work – on the night they collaborate on original, one-off versions of each others' original songs. And with pairings like rock legend Kim Salmon vs. pop songstress Phia, or punk stalwart Harry Howard vs. lyrical poet Kate Lucas, the results are unpredictable and astounding.