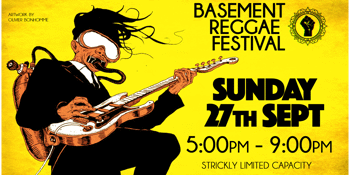 Clandestino + Capital Dub + 2XX FM
Basement Reggae Fest [Latin - Ska - Dub - Reggae - Roots]
Los Chavos + The Kingstons + Shadow Ministers
The Basement - Canberra (Belconnen, ACT)
Sunday, 27 September 2020 5:00 pm
Basement Reggae Fest [Latin - Ska - Dub - Reggae - Roots]


Presented by:
Clandestino + Capital Dub + 2XX FM


Special Guests:
Los Chavos + The Kingstons + Shadow Ministers


Categories:
Reggae Ska World Jazz

Description:
Close out your weekend with a early evening line up of Canberra's dopest purveyors of REGGAE, LATIN SKA and DUB as they come together for the BASEMENT REGGAE FEST!
Featuring...
Los Chavos - Latin Reggae Ska
Shadow Ministers - Dub Jazz
The Kingstons - Roots Rocksteady
Taking you from 60's
Jamaican Rocksteady
through
Dub Space Echo Jazz
to
Latin Ska
and
Roots Reggae.
SET TIMES
5:30pm -
The Kingstons
6:40pm -
Shadow Ministers
7:55pm -
Los Chavos
LOS CHAVOS
- (
Official Site
)
Los Chavos live experience showcases the bands signature energy coupled with complex arrangements and a variety of Afro-Latin rhythms such as
cumbia
,
dub/reggae
,
merengue
, but never straying too far from their
ska/reggae roots
- as romantic ballads were given a ska/cumbia twist and hard-hitting merengue horns are mixed with calypso-hiphop!
SHADOW MINISTERS -
[
2XX Interview
]
This new quartet explores live dub styles with a roots/jazz inflection - made up of members of
Agency Dub Collective
&
Dub Dub Goose
and hosting special guests on vocals
Alec Randles
(
Kopasetic
) and
MC Tomasky
as they experiment with DEEP DUB foundations and surreal atmospheres. New worlds collide in a space echo with original tunes and rare versions from this new dub juggernaut.
Raw hot steppas and rockers beats are provided by Simon (
Coolio Desgracias
) Milman and
Liam O'Connell
(3oB) with
Matthew Lustri
on spaceous and surreal guitar and Joel Dreezer out front on flute and keytar. The group aim to break new ground with a few classic manoeuvres.
THE KINGSTONS - (Facebook)
The Kingston play timeless summer Rocksteady and 60s Ska taking you back to the days when Jamaican Music ruled the airways
Noticing that there was a total lack of Rocksteady and 60s Ska Bands in CBR - founders Brett + Elrond teamed up with Liam and Dan to start the Kingstons, later coaxing local Ska legends the Lind Brothers and Rohan "Rudy" Dadswell out of their music retirement to form the ultimate lineup.
The Kingstons now boast that it has former members of F-Troop,the Untouchables, Hell yes,the JuJu Men, Velvet Jones, the Dreamlanders, Charlie's Children and Agency Dub Collective.
With such a fine musical pedigree and extensive knowledge of classic Jamaican Rocksteady, the Kingstons put an energetic, Ozzie take on this treasured and influential genre, whilst adding to the repertoire with some great originals.

SUNDAY 27th SEPT
5:00pm - 9:00pm
Limited Capacity