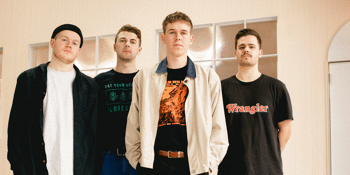 New World Artists & Greyscale Records Present
CANCELLED - Stuck Out - Lie Through Your Teeth Tour 2021
Lucy's Love Shack (Perth, WA)
Saturday, 23 October 2021 8:00 pm
STUCK OUT are a four piece alt-rock band from Melbourne, Australia who have, in the past 3 years, garnered over 2.5 million plays on Spotify, performed at the inaugural Good Things Festival and toured with acts like Senses Fail, With Confidence, Yours Truly & As It Is.

The band has also performed alongside acts like The Story So Far, Basement, Luca Brasi, Real Friends, Waterparks, Knuckle Puck, Roam and more. STUCK OUT have gained merit amongst the Australian scene, having sold out a number of venues along Australia's East Coast.

The band released their latest EP Lie Through Your Teeth in December 2020 and, fresh off the back of a tour with Yours Truly, STUCK OUT are finally able to take their newest body of work on the road, with shows at Black Bear Lodge, Lucy's Love Shack, Northcote Social Club, La La La's, The Lansdowne & Newcastle Hotel. Tickets on sale from 9AM on Wednesday 26th May – don't miss out!