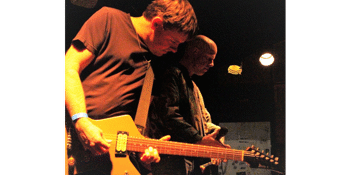 TOL Last Grief ALBUM LAUNCH
with GELD + CRYPTID + NERVE
John Curtin Hotel (Carlton, VIC)
Friday, 14 May 2021 8:00 PM
On May 14, TOL launch their album Last Grief at the John Curtin with supports GELD, CRYPTID & NERVE.
Formed in 2014 as a trio comprising Sean Bailey, Justin Fuller and Lee Parker, the band debuted with the Survive/War Dream 7". The recording of Last Grief saw the group introduce Tom Rowley on percussion and the band shift their roles. Sonically, the album is a level above the 7" single and was recorded by Jack Farley (Power, Zond) and mixed by Mikey Young (Total Control).
As of 2020, TOL's latest incarnation has introduced Nellie Pearson (Hacker, UBIK) to their sonic arsenal on bass. Akin to post-punk outfits 1919, Rudimentary Peni and Killing Joke, TOL speaks to the critical need to interrogate the prevalent. Last Grief is a soundscape of fury, a primordial weapon of defiance and is out now on AR53.