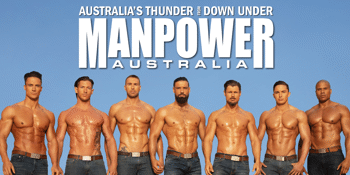 Manpower Australia - Girls Night Outback
Shoppingtown Hotel (Doncaster, VIC)
Saturday, 9 February 2019 8:00 pm
The award-winning stage show,
Manpower Australia
, also known as
Australia's Thunder from Down Under
, is the most sought-after Girls Night Outback on the entire planet! Direct from Las Vegas, these sexy performers bring ladies nights to a whole new level of entertainment. Watch your fantasies come true as these Aussies show off their chiselled bodies, seductive dance moves, cheeky humour and then some. For the PERFECT Girls' night out, Hens Party, 50th, 21st, divorcee party, you name it – Manpower Australia's got you covered. So, get your friends, let down your hair, kick up your heels and prepare to be left weak at the knees!
www.facebook.com/manpoweraustralia
www.instagram.com/manpoweraustralia