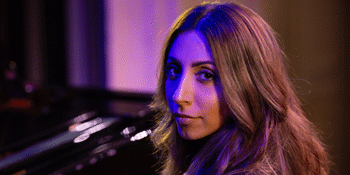 Bloodhound Bar presents
Hannah Ana - EP Launch
With Special Guest Kate Heart
Bloodhound Bar (Fortitude Valley, QLD)
Friday, 13 September 2019 7:00 pm
Hey, Brisbane! Join me for a captivating, dynamic and intimate evening of songs and stories to celebrate the launch of my Debut EP "Visions".
A little more about me - I'm a Brisbane-based Canadian alt-pop songstress, sharing stories through cinematic soundscapes, contemplative lyrics and angelic vocals. My songs weave elements of drama, mystery, and vulnerability - inspired by personal experiences, heartfelt human emotions, and the natural world.
This year alone I've released a number of singles, including collaborative dance track "Infinity", my debut single "Oceanside", and sophomore single "Letters". My songs have received radio play on ABC Brisbane, 4ZZZ and community radio stations across Australia.
The "Visions" EP is a culmination of years of discovering who I am, both as an artist and a person, and finetuning my craft to create art I believe to be meaningful and impactful. "Visions" represents everything I have worked towards, but also everything that could, potentially be in the future. This is really the very beginning of my journey and "Visions" paints a picture for how I wish to evolve as an artist, and how music and art can contribute to a better world for us all.
I am looking forward to sharing each of these songs with you live on the night, as well as brand new unreleased songs you will have never heard before.
Also joining me is Australian songwriter Kate Heart. Set amongst a soundtrack of uplifting pop with shimmers of folk, Kate's music inspires divine thoughts and kind hearts. It's this intention paired with her powerful angelic voice that truly sets her apart.
Gaining industry recognition in 2015 with three songs that earned her a spot in the National Songwriting Awards Top 30 and the release of her debut EP, Kate's music has been eagerly embraced by fans and can be heard on community radio stations from Byron Bay to Broome.
Her songs are beautifully crafted and easy to connect with as she weaves stories of universal love, personal truths, and standing tall in a world of people bent beneath the weight of societal norms.
Kate and I are so looking forward to sharing our songs and stories with you! As the venue is small and intimate, we encourage you to get your tickets ASAP. We are aiming to sell out this show ahead of time AND we need your help in doing so!
I look forward to seeing you on Friday the 13th of September at The Bloodhound Bar for a beautiful, soulful evening.
Much love,
Hannah Ana xx