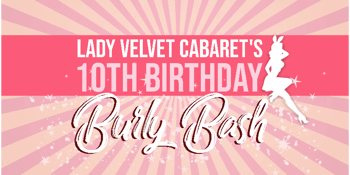 Lady Velvet Cabaret presents
Lady Velvet Cabaret's 10th Birthday Burly Bash
Sunday, 10 November 2019 6:00 PM
Lady Velvet Cabaret has been shimmying and shaking things up in Perth since 2009, and on November 10th they're blowing out the candles in style at Badlands Bar!
Join LVC artists and very special guests at Lady Velvet Cabaret's 10th Birthday Bash in an unmissable showcase of local burlesque and cabaret talent. Enjoy live entertainment, share memories from the past decade of Perth's burlesque community, and be in the running to win fabulous prizes. The Lady Velvet Cabaret troupe will be recognising their top achieving students, as well as members of their 'extended burlesque family' in a very special awards ceremony not to be missed.
After entertaining countless burly fanatics over the past decade, it's time to join Lady Velvet Cabaret for their biggest celebration yet!