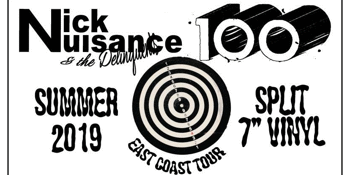 The Music & Booze Company presents
Nick Nuisance & The Delinquents + 100 - Split 7" Summer Tour
with The Buoys + Baby Beef + Concrete Lawn + Ultracrush
Marrickville Bowling Club (Marrickville, NSW)
Sunday, 27 January 2019 4:00 pm
Nick Nuisance & The Delinquents + 100 takeover Marrickvile Bowlo w/ The Buoys + Baby Beef + Concrete Lawn + Ultracrush
This summer two of Sydney's most exciting live up and comers pack into a Kia Carnival of carnage to take on the Pacific and the Hume. Covering more miles than Scomo's promo bus,
Nick Nuisance & The Delinquents
and
100
will be running up and down the East Coast, giving the people what they really want. A split 7" of two of their fave tracks along with a splitting headache the morning after.
The past 12 months saw both bands rise to the top of the pops quickly gaining a reputation for loud, raucous shows and stealing the spotlight on King St Crawl and the Psyched As 1000.
The bands will be promoting their limited edition split 7" out now through
Good Enough.
7" pre order: (
https://goodenoughaus.bandcamp.com/releases
)