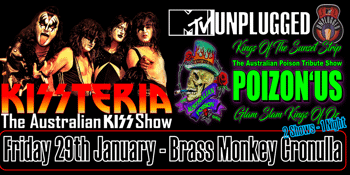 CODE ONE presents..
MTV Unplugged - Featuring Kissteria & PoizonUs - Late Show
Brass Monkey (Cronulla, NSW)
Saturday, 5 March 2022 8:30 pm
KISSTERIA - The Australian KISS Show & Poizon'Us - The Australian Poison Tribute Show will be performing a very special "One Night Only" Up Close and Intimate Event replicating the Renowned "MTV Unplugged" Series.

Both KISS & Poison performed on the Retro TV Show delivering 2 of the Best of the Series that "MTV Unplugged" had presented.
You can expect to see many of the same songs played plus a few fan favourites by both bands during this special night.
The Night will be a dinner and show offering and tickets include Entree and Main Meals plus the show.

Tickets to this show will be very limited so there will be an early and late show option and are on sale now.

We can't wait to see you for this KISS & Poison "MTV Unplugged" experience.