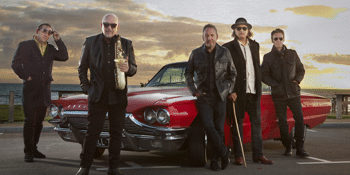 Premier Artists present
The Black Sorrows
with special guests
Royal Hotel Queanbeyan (RHQ) (Queanbeyan, NSW)
Wednesday, 14 August 2019 6:30 pm
---
DINNER & SHOW PACKAGES
---
Dinner service commences at 630pm. General Admission Entry at 730pm

Dinner & Show packages include entry and a two course meal (Entrée & Main), alternate serve.
*Shared table allocation: 2 people ticket holders are seated together*
Please note: this show will have limited seating and be standing only, dinner&show tables cannot be joined together on the evening and dinner will be allocated in multiple rooms separate to the show. Each below purchase option will allow you to buy one whole table. Tables may be place together to suit numbers. If you require more than one table per purchase please call our customer service team on 1300 762 545.

__________________________________________________________
The Black Sorrows have earned the reputation as a dynamic live act. There is a level of accessibility to The Black Sorrows that can appeal to the newest of fan. At the helm, Camilleri steers the band through an energetic interplay of solid grooves and well-crafted songs that mix those well-worn ingredients of blues, soul, R&B, gospel, country and even Brill Building pop.
Spontaneous (forget set lists) and emotionally driven, Joe ensures that no two performances are ever the same. Camilleri's mantra is simple "we come to play and leave the audience feeling exhilarated". And play they do… Joe Camilleri and The Black Sorrows backed up their late 2016 sixty date national tour promoting The Sorrows' 18th album release Faithful Satellite with a 2017 summer tour then shows in the UK and Europe Never being one to sit still Joe and his long-term writing partner Nick Smith at it again getting ready for a new release. The Black Sorrows continue to be one of Australia's most enduring touring bands and a festival favourite. Membership in The Black Sorrows has always been loose and fluid with Camilleri being the only constant. In keeping with Joe's desire to continually move forward, the latest incarnation of The Black Sorrows is - Claude Carranza (guitar/vocals), Mark Gray (bass/vocals), John McAll (keyboards/vocals) and Angus Burchall (drums).
In 2014 Joe Camilleri celebrated 50 years in the music business. The release of the highly acclaimed album Certified Blue added to the 50th celebrations by giving him his first mainstream chart appearance in almost a decade. Certified Blue peaked at #2 in the ARIA Jazz and Blues Chart and remained in the chart for over 40 weeks. 2015 saw the band tour Scandinavia for the first time in twenty years in support of the release of ARIA nominated album Endless Sleep. Europe is now permanently on the touring agenda. Camilleri launched The Black Sorrows, a loose band of like-minded musicians, in 1984 following the demise of his seminal band Jo Jo Zep and The Falcons the year before. From humble beginnings playing inner-city cafes around Melbourne and selling albums from the boot of a car, Camilleri transformed the band into one of the most sophisticated ensembles in the country.
The independently released album Dear Children, represented a turning point once CBS/Sony stepped in with a world-wide deal. When radio picked up the classic track, Mystified, The Black Sorrows really took flight releasing multi-platinum sellers Hold On To Me, Harley & Rose and The Chosen Ones. The Black Sorrows have won the ARIA for Best Band, played sell-out shows across Europe and sold more than two million albums worldwide. Writer of milestone Australian songs such as So Young, Hit And Run, Shape I'm In, Hold On To Me, Harley and Rose, Chained To The Wheel, Never Let Me Go and the Chosen Ones, Joe Camilleri's music has become part of Australian music culture.
As a member of Jo Jo Zep and The Falcons, Joe was inducted into the ARIA Hall of Fame in 2007. Camilleri has shown fans and critics alike that he is a performer with an undeniable energy and love of it all.