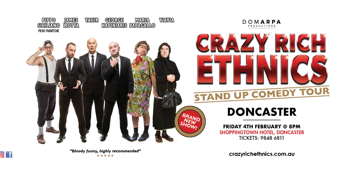 Dom Arpa Productions
Crazy Rich Ethnics - Stand Up Comedy Tour
featuring Tahir, Gabriel Rossi and George Kapiniaris
Shoppingtown Hotel (Doncaster, VIC)
Friday, 4 February 2022 7:30 pm
The Crazy Rich Ethnics are back with an extended family. After sell out shows across the country, join George Kapiniaris, Tahir, James Liotta & Piero Viavattene in a huge show full of stand up comedy, Sketches and more.

Tickets are limited due to covid restrictions so please grab your tickets early, and don't miss out on what will be the funniest show you will see all year!

Dinner & Show doors - 6:00pm
Show only doors - 7:30pm
Show commences - 8:00pm SHARP !

Book Now!