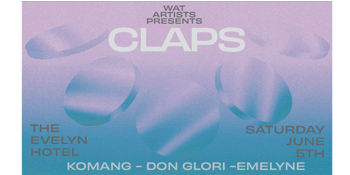 The Evelyn Hotel & WAT presents
Claps
Komang // Don Glori // Emelyne
The Evelyn Hotel (Fitzroy, VIC)
Saturday, 11 December 2021 8:00 pm
Melbourne's favourite tantric electro-jazz band Claps (WAT artists) returns from a lengthy hiatus to rain well-deserved celestial hellfire on their starving fans. For their first gig in over a year, Greg, Joel, Sam, Matt and Miles are performing live at the re-skinned Evelyn Hotel with new music, ready to give no quarter.

Featuring supports from Don Glori and Komang, interstitial tunes from Emelyne and visuals by Rhys Newling, this trip back down the rabbit hole of psychedelic electronic jazz will bend your brain.

+++

Claps are a firebrand of cosmic jazz energy, agitators of tradition and hotheaded jazz punks; an instrumental quintet that blends house, broken beat and drum and bass rhythms with unhinged jazz improvisation to create a dark, kaleidoscopic dance music experience. With members from The Rookies, Honey and Z.F.E.X. and an uncompromising search for a distinct and immersive sound, Claps pushes listeners and dancers out of their comfort zone and into heightened states of bodily perception.

+++

This event will take place on the lands of the Wurundjeri people of the Kulin Nation. We pay our respect to their Elders past, present and emerging, and acknowledge their ongoing struggle for recognition and sovereignty.