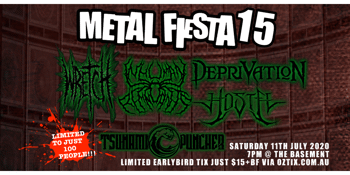 Shananigans Entertainment
METAL FIESTA 15
The Basement - Canberra (Belconnen, ACT)
Saturday, 11 July 2020 7:30 PM
Shananigans Entertainment is proud to present:

METAL FIESTA 15
A celebration of metal with a big mix of genres!!
Featuring 5 amazing metal acts, including:

WRETCH + INHUMAN REMNANTS + DEPRIVATION + HOSTEL + TSUNAMI PUNCHER*

Come and enjoy a full live metal show with mates, and some cold drinks!!

What: Metal Fiesta 15
When: Sat 11th July 2020
Where: The Basement
Address: 2 Cohen, St Belconnen
Earlybird Tix: $15+bf via Oztix.com.au (Strictly Limited number available)
General Tix: $20+bf via Oztix.com.au

* Please note that due to the ongoing uncertainty surrounding the Covid outbreaks in Melbourne, Witchgrinder have postposned their performance until later in the year, and will not be performing at Metal Fiesta 15. Filling in for them will be Tunami Puncher. A full statement can be found on the Facebook event page.