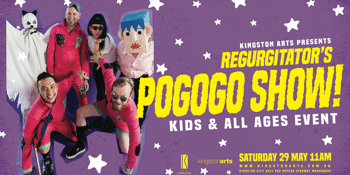 KINGSTON ARTS presents
Regurgitator's POGOGO SHOW!
Kingston City Hall (Moorabbin, VIC)
Sunday, 10 October 2021 10:30 am
REGURGITATOR'S POGOGO SHOW
Saturday July 31st 10.30am
2019's breakout kids music sensations and ABC KIDS faves REGURGITATOR'S POGOGO SHOW hit Kingston Arts Centre May 29th!
REGURGITATOR'S POGOGO SHOW
released their debut album in 2019, the typically adventurous (and playfully-titled) The Really Really Really Really Boring Album.
This new project sees longtime Regurgitator trio Ben Ely, Quan Yeomans and Pete Kostic joined by the effervescent Koko direct from Planet Rainbow. It's already struck a chord with families around the country – with the album having quickly climbed to #1 on the Children's iTunes chart.
The band's wildly-varied jumping castle of sounds will come as no surprise to longtime fans. From the slinky hip-hop stylings of first single 'The Box' and the elastic hop-scotch energy of 'Pogogo Show Theme'; to the punk rock mania of 'Pillow Fight' and tropicalia fun of 'Corumbo', young listeners will enjoy the spin of the musical wheel.
Of course, it's all done with smiles all round, and with a certain feeling of destiny. As Ely observes: ''Doing a kids album really feels true to our nature".
And to add further colour and movement to the whole shebang, the band have today unveiled the madcap new video for 'Pogogo Show Theme', their irresistible mission statement tune. The release of the video also commemorates a significant Regurgitator milestone – arriving exactly 25 years after the band's first ever gig in Brisbane.
Renowned Brisbane mashup rock/electro/punk/poppin' funtime outfit Regurgitator have cooked up a sugar-soaked record written especially for kids!
Having performed at a number of children's events in recent years, the multi-platinum, multi-ARIA Award-winning band have developed the kids music project Regurgitator's Pogogo Show - a typically manic playground that careers between punk, hiphop, funk, electro-pop and everything in between, true to their inimitable nature.
The new collection of songs - The Really Really Really Really Boring Album - is about as silly and cheeky as a record can get, whilst still offering a G-rating suitable for the tiny folk. Featuring instant-ear wriggles such as 'The Box' and 'Games On My Computer', it's sure to bring a smile to long-terms fans as well as the young ones in their life.
The band have never been more excited: "We've got our tiny amplifiers warmed up, our teeny drum kits tuned and plenty of soap for our filthy little mouths. We're ready to shout till our voices are wrecked, if you're ready to scream till your parents are deaf!"
"We had such a great time playing at Sydney's kids festival, 'Dress Up Attack!', in late 2013 that we came off stage so inspired there had to be a kid's album and show off the back of this. Ben and I started doodling around with miniature tape decks in Hong Kong whilst we were working on the Dirty Pop Fantasy Record and jammed on quite a few of the kids ideas that would finally find their way on to this record in some form. A lot of the initial ideas were songs Ben had written for and with his kids who were about 11 or 12 at the time.
The first proper kids recording session was at his house in Melbourne when he still lived down here in 2014… we took out the Teenage Engineering OP-1 a Bass guitar and a couple of mics and recorded a few tracks like Playing Games on my Computer and Pigeon Riding on a Motorcycle. We had such a laugh doing them we promised ourselves at that moment that we'd eventually get round to recording a full album. And finally we got together late 2018 with Peter and Koko in Richmond, Melbourne and bashed it all out, warts, giggles and all!"
Keep all eyes out for Regurgitator's Pogogo Show kids show climbing walls near you soon!
REGURGITATOR'S POGOGO SHOW
THE REALLY REALLY REALLY REALLY BORING ALBUM
Out now on ABC KIDS
https://abcmusic.lnk.to/PogogoShow
Also on VINYL
https://www.valverecords.com.au/shop/