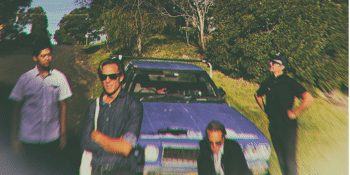 Infinity Broke Album Launch
with special guest PEABODY & JESSICA
The Great Club (Marrickville, NSW)
Saturday, 19 February 2022 6:30 PM
Infinity Broke release their third album 'Your Dream My Jail' on July 23rd. With the songs largely conceived in South America, Your Dream My Jail has a unique clattering, double-headed percussive base. Driving post-punk influenced bass, dissonant free form guitar and Jamie Hutchings signature scorched vocals make it their headiest release to date. Your Dream My Jail showcases the heavy focus on rhythm and dissonance that Infinity Broke is built around, yet refuses to eschew the traditional songwriting approach to form and melody.
The album was recorded by Simon Berckelman at Golden Retriever Studios in Marrickville over five days in April 2020, mixed by Tim Whitten and mastered at Micro Moose in Berlin by Doug Henderson (Swans, The Necks).
Following nearly 15 years and six albums with Bluebottle Kiss and then his first three solo albums, Jamie Hutchings re-entered the full band fray of noise, dissonance and melody with Infinity Broke, also featuring his brother Scott Hutchings on aux drums/percussion and guitar, Reuben Wills on bass and Jared Harrison (BBK, Peabody, Restless Leg) on drums.
Their first two albums chronicled the band's exploration of rhythm, tone, texture and the dynamic interplay between guitars and percussion. Songs rose to the surface and then dissolved into the sonic fabric of the music the quartet composed – a sublime balancing act of harmony and abrasion. Exhilarating local live shows that showcased the diversity of the band's sound, from noisy rock to exercises in Krautrock-influenced endurance and repetition saw them also accept an invitation to perform at the Binic Folk Blues Festival in France in 2014 and 2018.
Changes have occurred within the Infinity Broke camp since the release of Before Before with Jared amicably leaving the band. As a result, Scott has shifted to drums as well as weighing in on two co-writes on guitar. The band have re-emerged on stage with their new percussionist Jonas Tay giving full range to their kinetic sound. From the soil of South America to the surrounds of a Marrickville studio and the seasoned ears of Tim Whitten (The Necks, Crow, Underground Lovers, Bluebottle Kiss), this is just the latest fascinating chapter in the musical journey of Jamie Hutchings and his collaborators.
Your Dream My Jail will be available on LP, CD and digital on Bandcamp and discerning record stores from July 23rd, 2021. Special guests on the night come in the form of a rare appearance by Sydney's indie rock legends Peabody. The groups most recent album A Redder Shade Of Rust was described by Doubtful Sounds as 'a heady, poetic balance of melody, rhythm, momentum and knotty guitars and vocals'. Their visceral live shows are not to be missed.
Opening the night is ethereal songstress Jessica, one half of Sydney folk duo Jep and Dep. Jessica's debut album The Space Between has been described by Backseat Mafia as 'A branch of dream pop that brushes against a folk sensibility, Jessica's vocals ring with the clarity and purity of expression last heard in Dusty Springfield's voice'.
Doors at 6.30 pm with our kitchen Girls Gotta Eatery open for dinner and snacks - full menu available
here