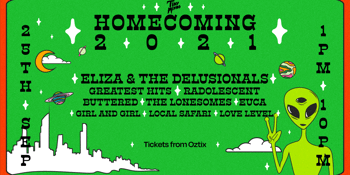 Tiny Minds Agency presents
Homecoming Festival 2021 - Gold Coast
Eliza & The Delusionals, Greatest Hits, Radolescent, Buttered, The Lonesomes, Euca, Girl and Girl, Local Safari, Love Level
Burleigh Bazaar, Gold Coast (Burleigh Heads, QLD)
Saturday, 25 September 2021 1:00 pm
Tiny Minds Agency proudly presents HOMECOMING, a festival celebrating and showcasing Gold Coast music & culture.
Now in its 2nd year Homecoming features an exciting & diverse lineup of some of the Gold Coasts best musical exports. Heading up our 2021 roster is Indie Rock darlings ELIZA & THE DELUSIONALS, movers and groovers GREATEST HITS, the pioneers of chaoticically good times RADOLESCENT and a sprinkle of soul, a dash of jazz, served with a side of blues it's BUTTERED baby!
They'll be playing alongside the three from hell THE LONESOMES, fierce folk rock firecracker EUCA, the classic rock stylings of GIRL AND GIRL, hunters of the party LOCAL SAFARI and the heavenly dream pop of LOVE LEVEL.
SATURDAY SEPTEMBER 25TH
BURLEIGH BAZAAR, GC

FIRST RELEASE TICKETS: SOLD OUT
SECOND RELEASE TICKETS: $30 + BF

LINEUP:
ELIZA & THE DELUSIONALS
GREATEST HITS
RADOLESCENT
BUTTERED
THE LONESOMES
EUCA
GIRL AND GIRL
LOCAL SAFARI
LOVE LEVEL
+ MORE TO BE ANNOUNCED